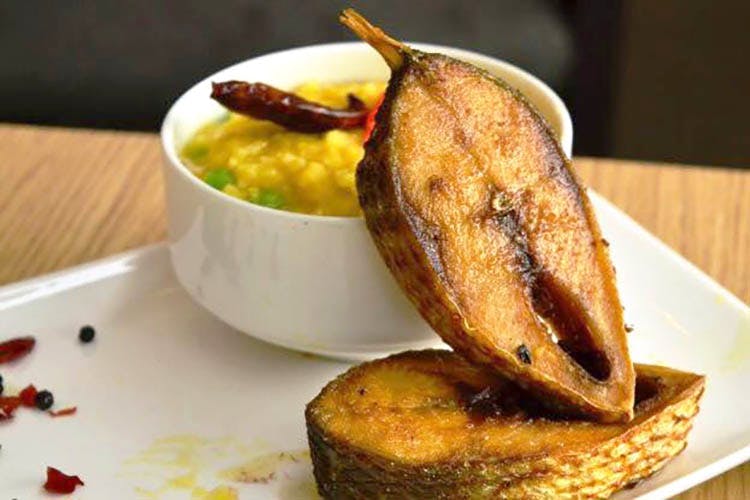 Make Your Life Mishti: Bengali Restaurants In Pune You Must Try
Homesick Bengalis and all those in love with the cuisine from Bengal, We've got you the best of Bengali restaurants. So whether you crave for some Kolkata-style biryani or the famous chops, these are the places you should be at.
Question Mark - Taste Of Kolkata
If you're searching for authentic Kolkata rolls, head to Question Mark – Taste Of Kolkata in Wakad right now. Try out the double egg chicken roll for INR 120, the paneer schezwan roll for INR 100. Order the famous Kolkata street food, egg devil, which is made out of boiled eggs, mashed potatoes and deep-fried bread crumbs. The restaurant also serves a special night menu which is operational from 11:30 PM to 3:00 AM.
The Bengal Kitchen
This small establishment at Pimple Saudagar serves Bengali cuisine at its best. We loved the maacher dimer bada for INR 100. It's fish eggs mashed with onions and rich spices and then deep-fried. Bengalis who are away from home, you have to try their potoler dolma (INR 160), the mocha chingri jugalbondi and our favourite, the ilisher matha pui shaag.
Apyayan
Go here for a yummy Sunday afternoon lunch. Start with the postor bada (INR 100) and the bhetki batter fry. For main course, order the Kolkata mutton biryani for INR 280 with a side of kosha mangsho for INR 300 and lal murgir jhal for INR 280. If you want to eat something light, go for plain rice, musur dal and the mouthwatering chingri malai curry for INR 300.
Eden Gardens
Aloo posto, dhokar dalna, shukto, mutton kosha and more, Eden Gardens at Kharadi is a paradise of Bengali dishes cooked by Bengali chefs. You must try the fish chop, chicken with dhone pata and the doi rui. Take the entire gang for a Bengali treat that won't even hurt your pocket.
ChiliMili
Dig into delicious fish fry, mutton kosha, bangali khabar and much more at ChiliMili in Pimpri Saudagar. The restaurant is famed among locals for serving authentic Bengali cuisine. Do not forget to end your meal over here with a plate of rasgulla. A meal for two over here will cost you approximately INR 600.
Aha! Baangali
located in Kharadi and Wakad, Aha! Bangali is a must-visit for all those homesick Bangalis. This restaurant serves a delicious range of authentic Bengali cuisine. You must try their mutton kosha, chicken biryani, fish fry, daab chingri among other delicious dishes. A meal for two will cost you around INR 600.
Comments