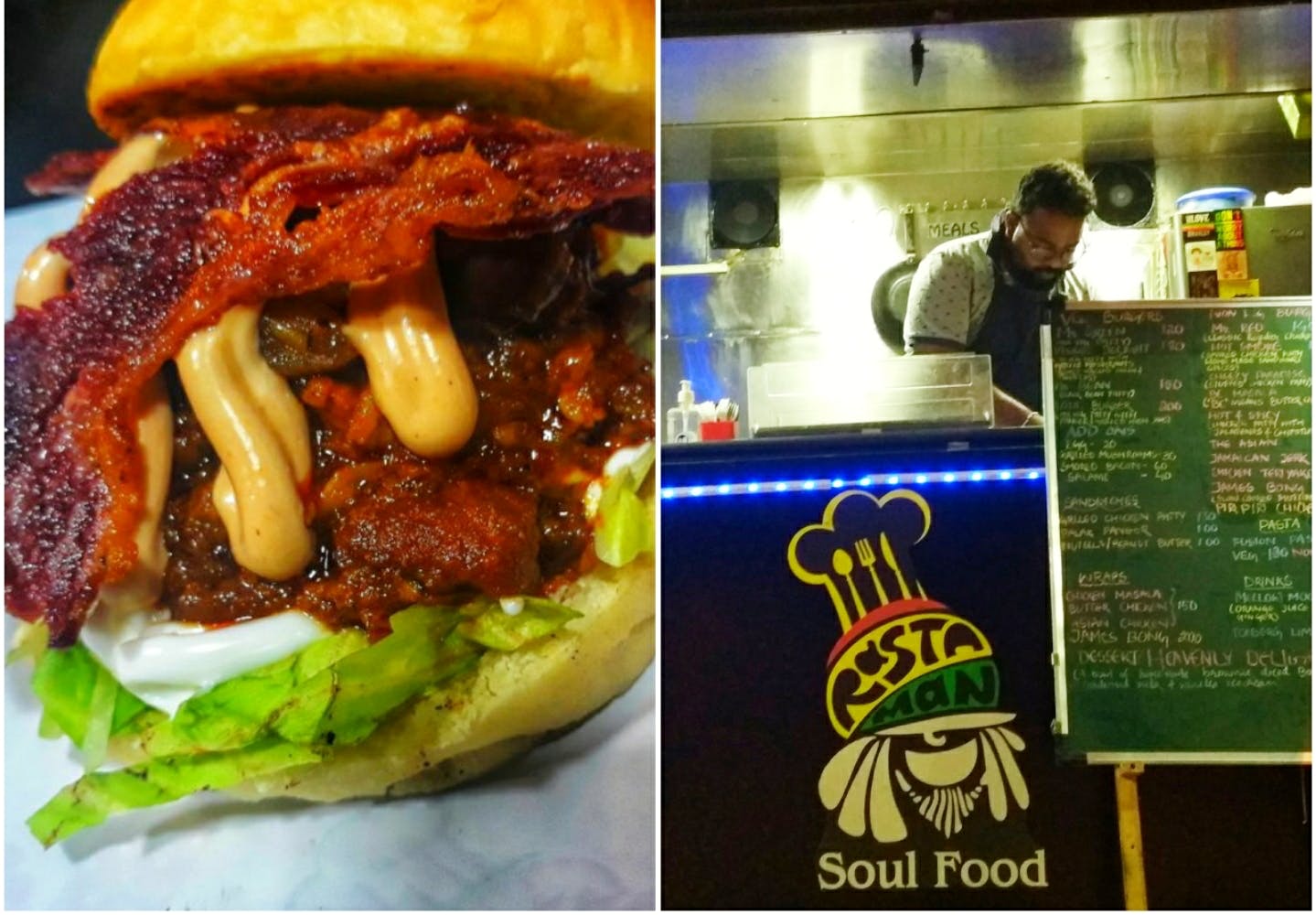 Adventurous Bongs, Have You Tried This Kosha Mangsho Burger Yet?
What Makes It Awesome
Bengalis of Pune, guess what we stumbled upon? James Bong! No, it's not a character straight out of a comic book, rather, much to our surprise, it's the name of a lip-smacking juicy burger...without a patty. Served by Rastaman Food Truck right opposite Balewadi High Street, what makes this burger so unique is the kosha mangsho between the buns. For those of you who aren't aware of what this dish is, kosha mangsho is a speciality of the Rajbaris of Kolkata. It's a meat preparation, made in thick red curry, is rich in spices and is slow cooked in mustard oil. Coming back to James Bong, a generous serving of kosha mangsho is stuffed between the burger buns and is served with a side of crispy potato chips. We loved how the mutton is cooked - an absolute melt-in-the-mouth delight with just the right amount of sweet and spicy flavours. Priced at INR 200, we recommend you try your James Bong burger with some bacon strips. Trust us, it's probably what they serve in heaven! Wash down your burger with a glass of Mellow Mood, a refreshing twist to orange juice with a hint of ginger.
What Could Be Better?
Rastaman doesn't accept card payments, so, make sure you have cash or a PayTM transaction works too.
What's My Pro Tip?
For those of you who love their kosha mangsho spicy and hot, ask the chef and he shall happily add a teeny bit of bhut jolokia or ghost pepper to the preparation. The burger tends to get a bit messy, so keep some tissues handy.
Anything Else?
Cleanse your palate with a tasty dessert at the end. We tried and loved their bowl of homemade brownie with diced bananas and vanilla ice cream, and it's safe to say we recommend this soothing dessert after a spicy meal.
Also On Rastaman Soul Food
Comments