The information in this post might be outdated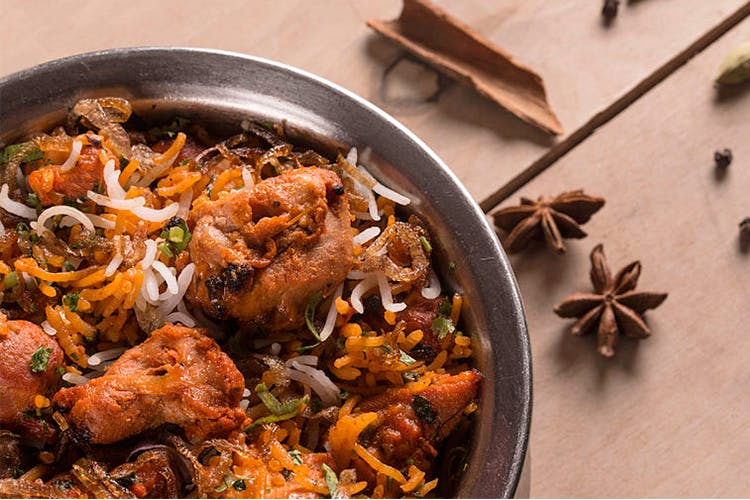 The Verdict For The Ultimate Biryanis In Pune Is Out & These Are Our Picks
Biryani is one of the most hotly-debated dishes in Indian cuisine, owing to its numerous variations that differ from one region to the next. What can be unanimously agreed upon, is that biryani is delicious. Here are our favourite places for a mouth-watering plate of biryani in Pune.
George Restaurant
We can't talk about biryani without bringing up George on East Street. A classic, their biryani recipe is said to have remained unchanged since the 1940's – and the taste is consistently delicious! We love their mutton biryani, with the chicken biryani coming in at a close second. If you'd rather try a different style of chicken biryani, their chicken tikka biryani is pretty good too. They also have veg, prawn, and fish biryani – if you're so inclined. Complete your meal with a side of butter chicken, and remember to wear your stretchy pants to accommodate all this food.
SP's Biryani House
Located at Sadashiv Peth, SP's Biryani House is one of those cult-classic biryani places you can't miss out on. With over 13 styles of biryani on the menu, they're most famous for their sajuk ghee mutton dum biryani, and their signature 'SP's mutton dum biryani. Served with a side of rassa, we hear it's real value-for-money, tasty fare. There are mutton, gavran chicken, seafood, egg, and veg speciality mains available as well. If you're up to it, you can order biryani made with an entire chicken or a leg of mutton – but you have to notify them at least 24hrs in advance. They're said to be packed on weekends, so plan accordingly!
Savya Rasa
We love Savya Rasa for their excellent representation of regional South Indian cuisine – but the dark horse on their menu is undoubtedly their Kongu mutton biryani. Made with a short-grain rice – 'seeraga samba', which is a speciality rice of the Kongunadu region, this biryani features tender mutton pieces flavoured with coconut milk, and served with a side of coconut pachadi. It's brilliant, trust us. Their Thalassery meen biryani – made with seer fish, and the kozhi chatti biryani – made with chicken, are also worth a try. Keep in mind that these biryanis are spiced with regional flavours, and traditionally made with short grain rice – which makes them different from their Northern counterparts, but no less delicious.
Nawab Asia
As nawabi as the name sounds, more nawabi is the ambience, food and service. With cozy and stylish low sitting sofas, dim lighting and premium feel, Nawab Asia is the best for your meat and Mughlai food cravings. ideal for biryanis and kebabs, this place made it to our list for its chicken as well as biryani, that has the charcoal flavour infused in it perfectly.

Reddy's Biryani Zone
Reddy's Biryani Zone is your ultimate destination if you're craving for some lip-smacking biryani that doesn't cost a bomb. It's a small place with limited seating area and average ambiance. But the food sort of makes up for everything else. If you love Hyderabadi-style Dum Biryani, this is the right place to go to hog on the Roasted Chicken Biryani (INR 180) and the Prawns Biryani (INR 250).

Madraz Biryani
Long fragrant rice, rich gravy, mirchi salan and an egg on top. While all the other biryanis at Madras Biryani are amazing, their egg biryani is one-of-a-kind. Located in Baner, this biryani restaurant serves yummy brinjal curry with the dish. For INR 350, opt for their non-veg biryani combo that comes with raita, sweet, brinjal curry and chicken 65 or pepper chicken curry.
Blue Nile
Say biryani, and Blue Nile comes to our mind. This age-old eatery in Camp serves amazing Mughlai and Iranian food and offers excellent biryani. Try out the Irani-style mutton biryani, murg Irani biryani and chelo murg biryani that comes with raita. The price ranges between INR 350-INR 400.
Charcoal Eats
Situated in several areas across Pune such as Aundh, Kalyani Nagar or Kothrud, Charcoal Eats is yet another favourite destination that serves amazing biryani. The comfort food has a chargrilled taste and comes with delicious gravy. A small plate of chicken biryani will cost you INR 229. Their must-try dish includes Awadhi chicken, butter chicken biryani and the classic Hyderabadi biryani.
Madinah Restaurant
As you walk into this place, you will instantly be treated to the aroma of freshly grilled shawarma chicken and barbecue meat. Non-vegetarians are sure to fall in love with the place. Frankly, Madinah near Poona College, Bhavani Peth is not at all about fancy interiors or ambience or presentation. The prices are dirt cheap. A full plate of mutton biryani is for INR 180 and will comfortably serve two adults.

Ancient Hyderabad
If you're looking for some authentic Nawabi biryani with Hyderabadi-style paya nihari and mutton dalcha, you must visit Ancient Hyderabad in Xion Mall, Hinjewadi. The restaurant in every definition is a meat-lover's haven. From flavoursome gosht mutton biryani to yummy kebabs, they've got it all. Pair your dish with tangdi kebabs and kali mirchi prawns that will pamper your tastebuds to next level.

Comments