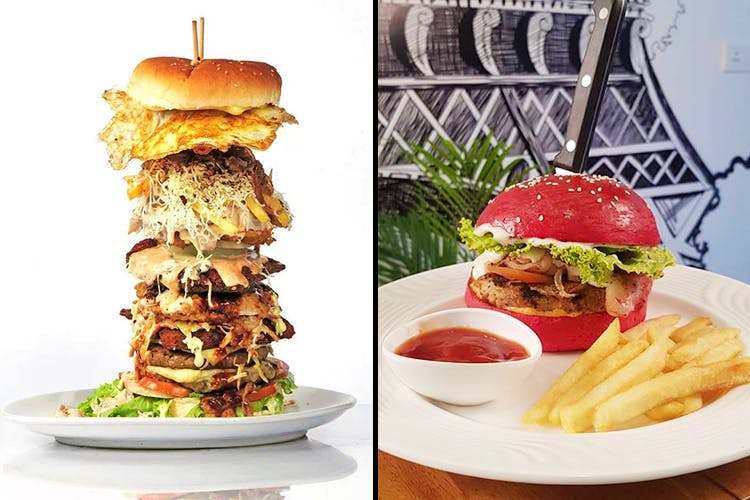 9 Meatiest, Greasiest Burgers In Pune We'd Kill For Right Now
Ten-Second Takeaway
Burgers are such a great comfort food – they've got bread, meat (usually), pickles, cheese, and crunchy-fresh veggies. We've eaten our fair share of them, and in doing so have put together this ultimate guide to the best meaty burgers in Pune.
Buffmeister Burger at Burger11
Burger11 needs no introduction. A delivery-only kitchen, their burgers are the stuff of legend. Initially a late-night delivery service, they now offer meals from 
11.00AM – 5.00PM
 (except 
on Monday
 afternoons) and their usual time of 
7.30PM – 4.00AM
 as well. We recommend their juicy 'Buffmeister' made with a quarter-pound of finely ground meat – generously dressed with cheese, garlic-pepper mayo, and the classic tomato-onion-gherkin combo. Their Chef's special 'Chicken 11' burger is super delicious as well. Add a side of masala fries, and you've got a winning combo!
#LBBTip: Try their carb-free lettuce 'bombs' if you're on a low-carb/no-carb diet, or just plain gluten intolerant. It's all the meaty goodness, sans bread. We've tried it, and loved it!
Double-Ex Touro Burger at Boteco
The Double-Ex Touro burger with extra bacon at Boteco is a carnivore's dream on a plate. Served with a side of crisp cassava fries; it's meaty, tender, and more than enough to knock you right into a food coma! There are lamb, pork, chicken, prawn, and veg burgers available as well. We recommend you ask for their 'daily special' burger – since Chef Guto Souza is always experimenting with new dishes, off the menu.
WTF Burger at Burger Barn Cafe
Burger Barn Cafe's WTF burger is 1.6kg of ridiculous meaty goodness. It's a tower of meat that has defeated even the staunchest of meat eaters. In fact, there's a 'WTF Challenge' that Burger Barn runs – where you have to finish the entire WTF burger, along with a portion of their 'ultimate fries' and an Oreo milkshake in under 15 minutes to get your meal for free! If you finish it in under 30 minutes, your photo will make it's way to their 'virtual wall of fame'.
The Beast Burger at Elora Artisan Kitchen
We hear the Beast burger at Elora Artisan Kitchen in Baner is a force to be reckoned with! Served on a black burger bun, the chicken patty here is topped with caramelised onions, cheese, 'Louisiana sauce', bacon, a fried egg, iceberg lettuce, and tomato.
Pork BBQ Burger at The Sassy Spoon
The Sassy Spoon's Pork BBQ burger is a tender pork patty, smothered with their house-made BBQ sauce, lettuce, and cheese. Served with a side of masala fries and a small salad, it's perfectly portioned and makes for a great cheat meal.
Grain-Free Meat Burger at Sorted Delicatessen
Did you ever think you'd be able to eat a grain-free burger bun? Well, Sorted Delicatessen has that all figured out for you. Their fresh (buff) meat burger comes in a buckwheat bun, with melted cheddar cheese, lettuce, tomato, fried onion ring and a small side salad. If you want to eat healthy but still enjoy your favourite foods – Sorted is where it's at!
Pulled Pork Burger at Fat Cat's Cafe
Porkaholics, don't miss out on the Pulled Pork burger at Fat Cat's in Wanowrie. Made with slow cooked pulled pork, layered with bacon, a fried egg, lettuce and Sriracha mayo – it's a foodgasm in every bite!
BC Masala Burger at Rastaman Soul Food Truck
Rastaman Soul Food boasts some really epic burger combinations – including the 'BC Masala' (BC means butter chicken) burger which we hear is a finger-licking good combination. Other burgers you might want to try are their 'Soul Burger', 'James Bong', and the fiery-hot 'Red Naga'. It's easy on your pocket, and enough to sate your appetite.
Chicken Ghee Roast Burger at L'dorado
Super popular for their tasty burgers and fries, L'dorado's 'disco fries' even made it to our 'LBB Guide to Ultimate Fries' (here)! Their spicy-crispy Chicken Ghee Roast burger happens to be one of the crowd favourites, and we think you should sink your teeth into it ASAP.
Comments