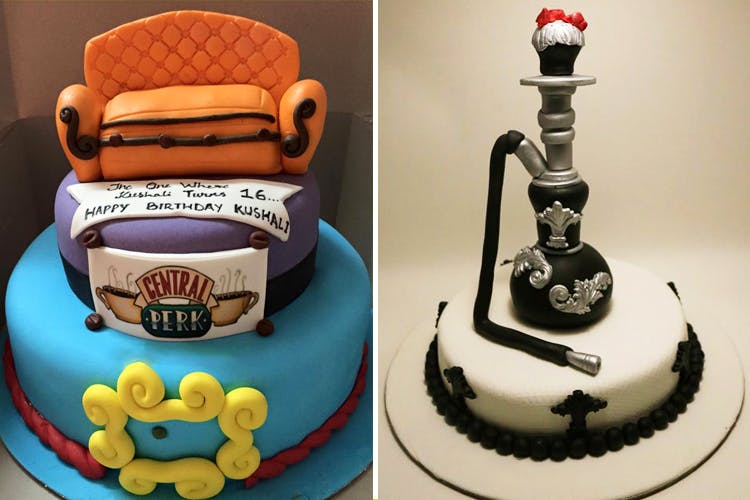 Have Your Cake, And Eat It Too: Your Guide to Pune's Best Customised Cake Shops!
Ten-Second Takeaway
It's your bestie's 21st birthday, and she's been raving about having a designer bag cake, at the party. We know the struggle, to find the perfect cake shop to customise it for you, is real. That's why, we've got it all laid out!
Sweet Mantra
For all those pure vegetarians out there, this is the place for you. All the cakes here are eggless! Sweet Mantra, located at Balewadi, is a cake studio, started by Pune based home bakers, Seema and Jatin Saraf. Birthday cakes, engagement/wedding cakes, baby shower cakes, cartoon-themed cakes or whatever-the-event cake, they make it all and you get a designer 3D cake that is customized as per your wish. They don't repeat their designs, so every cake is unique and hence there is no online ordering either.
Custom Cakes
The one-stop online shop for all celebratory requirements! A blend of luxury & perfection with the finest ingredients, design and art. Custom cakes has an in-house facility for all its baking needs & also a dedicated team for its delivery system. They cater to all your specific needs, delivering only the best!
Kreative Kakez
Do you need a unique cake for a special occasion? Drop by this cake studio, and let your vision become a reality!
What they offer are fresh homemade cakes, 100% guaranteed pure veg, baked with the best ingredients in Pune. Always open to new ideas, they can create choco lavas, chocolate bouquets, and even indulge in sugar paste modelling.
Cake Lounge
Having reigning the baking industry passionately for nearly two decades, they are no longer just bakers, but craftsmen. Every product from their state-of-the-art bakery, created with premium ingredients, speaks a language of intricacy, charm and uniqueness. Just like wine, Cake Lounge has matured, evolved and turned fine with age. Through their strategically located kitchens and outlets around Pune, they can boast of delivering cakes, flowers and accompaniments almost anywhere in Pune within the expected time!
#LBBTip: Check out their website to avail of exciting discounts, on online orders!
Comments