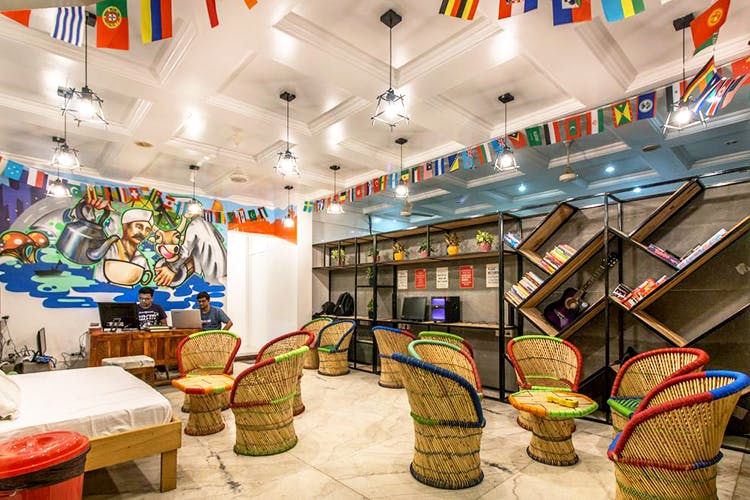 Calling Out All The Newbies in Town! Here Are 5 Hostels You Can Bunk At In Pune
Pune is a education hub. We all know that but a problem that most youngsters have in this town is looking for a place to stay. Affording an apartment is usually out of budget and finding like-minded flatmates, highly unlikely. In the past few years, Pune has seen several hostels coming up that are fit for young students or even travellers. Most are like a community and you'll surely meet other interesting souls. So to help you lock down the perfect accommodation, here is a list of 5 hostels that cater to students:
Backpacker Panda
Backpackers Panda has a global footprint around the country. They are known for providing comfortable and affordable hostels for students and backpackers. Located in one of the hippest neighborhoods, Backpackers Panda in Koregaon Park has quirky interiors with graffitis all over. They also have a laundry service and a bar that allows their guests to mingle and socialise. The tariff starts at INR 649 per night for a bed in their six-bed a/c dorm. A private bedroom will cost you INR 1,063.
Bombay Backpackers
Bombay Backpackers, also located in Koregaon Park, is a perfect place to unwind after a tough day at work or college. Share a bunk bed or book a private room, Bombay Backpackers has so much more than just affordable rooms. The hostel provides a large common room, a common kitchen and even a meditation room. If you are looking for some quiet time, crawl into their tents. The murals as well as graffiti on the walls add a very calming feel to the entire space. The charges of this place start at INR 499 per person. If you want a private room, it will cost you INR 2000.
Backpackers Hive
Koregaon Park seems like the place to be! Backpackers Hive has been around for a while and is a favorite among the youngsters. The staff at this hostel can speak German, English and Hindi which makes it some much more appealing for people coming in from outside the country. If you like coming back to your residence and chill indoors then their common room has a lot to offer. From different indoor games to board games and books, unwind however you want. The starting price at Backpackers Hive is INR 990 per person. Even though this charge covers basic facilities, you can avail a number of other benefits from them at an extra cost.
Tribe Stays
This fancy hostel is surely going to impress you! Tribe Stay is located in Viman Nagar and is perfect for the youth of the city. The hostel space is vibrant and colourful and their rooms are cozy yet stylish. The hostel has free WiFi and also a breakfast-spread everyday. They also have private rooms as well as shared rooms. A night stay with them will cost you INR 2800 + taxes for two.
Jugglers Hostel
This hostel will surely satisfy the hippie soul in you. Located in a nook at Koregaon Park, Jugglers is the place to be if you want to make friends from different walks of life. The space is very elegantly designed with private rooms and dorms. You can avail amenities such as a laundry room, free city walks and a kitchenette at Jugglers. They have an open terrace where you can enjoy your meals or play snooker as well. A night's stay here would cost you INR 800 and upwards.
Comments