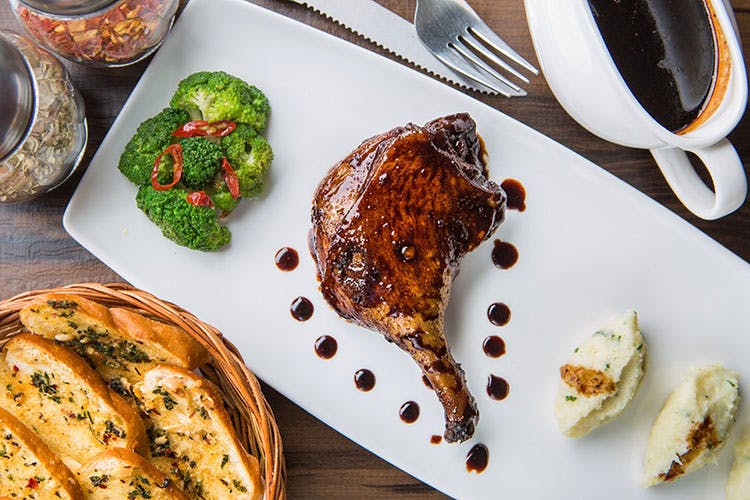 A Carnivore's Bucket List: The Best Non-Veg Restaurants In Pune That You Can't Miss
If you're a hardcore carnivore and find it hard to choose where to eat, have no fear, LBB is here. And, we've toiled away night and day to create this carnivore's bucket list of restaurants showcasing the meatiest food from all across Pune.
Boteco
Boteco first opened in Koregaon Park in April 2016, and they've been slaying it ever since. With a focus on Brazilian cuisine, their meats and grills are the stuff of every carnivore's fantasies. Chef Guto's meaty experiments with the specials menu are always on point, so keep an eye out for treats like foie gras and imported Brazilian tenderloin. Don't miss their escondidinho – a dry-aged beef specialty (INR 395), carne na pedra – DIY steak cooked on a hot stone (INR 580), the Boteco mega grill platter (INR 3500 for meat, INR 4500 for seafood) and their all-you-can-eat churrasco lunch on Saturdays (INR 1350 tax).
Street Meat
Don't be fooled by the size of this tiny eatery in Koregaon Park – Street Meat delivers big, beautiful flavours. Chef Nikhil's creative mind has spawned the likes of Thai chicken gol gappe (trust us, you need to try this) (INR 140), crispy Korean chicken wings (INR 240) and generously stuffed soft-shell tacos like the Jap belly taco (INR 150), and the insanely good pulled pork brun pao (INR 300). They recently introduced sweeter offerings like the brunut (starting at INR 110) and waffles (starting at INR 180) as well as all-day breakfast and meal combos.
Stay glued to their Instagram feed for daily deals like Taco Tuesday, Waffle Wednesday, Thai Chicken Thursday, etc. and go eat your heart out.
Aufside @Hotfut
Aufside is every sports fan's dream bar; it even has an attached arena where you can burn off the calories from all their delicious grub! While you settle in with a chilled beer to watch your favourite sports team battle it out, grab a chili dog (INR 250), a Philly cheese steak burger (INR 270), or go straight for the kill with their BBQ pork chops, that we promise are life altering (INR 380).
Aufside is a great place to watch live match screenings with your squad, but they suggest booking a table beforehand.
Burger 11
Though they are a delivery-only restaurant, Burger 11 is the bomb. Got the munchies at 3AM? Burger 11. Drunk AF and need to sober up? Burger 11. Need to carb-load before your early morning workout? Burger 11. Seriously, their burgers are insanely good. Call for the chicken buster burger (INR 250), the quarter-pounder buffmeister (INR 240), or the BLT burger with German smoked bacon (INR 260). Delivery is available between 7.30 PM and 4 AM only, so plan accordingly. Do try their lettuce-wrapped burgers if you're on a low-carb/no-carb diet, or just plain gluten intolerant. It's all the meaty goodness, sans bread. We tried it, and loved it.
I'm Lion - Strictly Non Veg
I'm Lion isn't kidding around with their 'Strictly Non Veg' tagline. There literally isn't a single vegetarian item on their menu (rice and breads don't count). Featuring the best of Mangalorean, Goan, and Konkan fare; the menu revolves around mutton, chicken, and seafood. Try their chicken cafreal (INR 200), crab masala (INR 400) and Mangalorean mutton with neer dosa (INR 350). They also have some crazy good sounding seafood thalis that we're dying to check out next.
Flying Duck
Flying Duck is another small eatery that serves up some of the tastiest, boldest Asian-fusion dishes you've ever tried. There's usually a line out the door for their food, and people are happy to wait even an hour – it's THAT good. Skip the small stuff and go straight for their signature menu, which is a porkaholic's dream come true. Order the ghost chilli chicken (INR 330), smoked pork with bamboo shoot (INR 390), and the Thai pork and eggplant with sesame butter rice (INR 400). We've heard good things about the special glazed duck roast (INR 550), meat stew (INR 390) and the quail with special sauce served with butter rice (INR 380) as well.
Mad House Grill
Nestled in a quiet bylane in Koregaon Park, under a canopy of twinkly lights, sits Mad House Grill. Pune's first dedicated steakhouse, MHG is well-known for their steaks and grills. We enjoyed their bulls-eye steak (INR 450), the special mix grill (INR 600), and the fish in lemon butter sauce (INR 480). It's the perfect setting for a romantic date night, or a lazy Sunday lunch.
Don't forget to try out their dessert – their apple crumble and chocolate sin (both INR 220) and wash everything down with a pint of the Goa's famous King's beer.
Mahlzeit
Bringing a taste of Berlin to Pune, Mahlzeit is a haven for German street food. Sink your teeth into their juicy currywurst – pork sausage with a Berlin-style curry sauce and fries (INR 300), the signature supreme burger – a tenderloin patty smothered with cheese, topped with bacon, mayo and a side of fries (INR 350), or the chicken döner kebab – a Turkish-German fusion of grilled chicken, crunchy salad, yogurt sauce and a tangy red sauce stuffed in a pita bread (INR 250). If you have the midnight cravings, Mahlzeit now offers late-night delivery until 4am, only through online orders.
Surve's Pure Non Veg
Touted by many as the most authentic Puneri/Maharashtrian non-vegetarian thali, Surve's has a lot to live up to. A bit more on the rustic side, Surve's comes to Pune from Satara; currently with two outlets – one at FC Road and the other in Viman Nagar. We've heard positive things, and a couple of complaints about service, but hey – don't knock it 'til you try it! Feast on the chicken thali (INR 300), mutton rassa thali (INR 150), or the main event: Surve's special mutton thali (INR 450).
J1
Try out some spicy Maharashtrian-style cooked chicken and mutton at J1 in Shivajinagar. The restaurant is famous for it's authentic Maharashtrian food however, unlike most the places, J1 also serves some delicious non-vegetarian dishes. You have to try their chicken as well as mutton kheema, which is perfectly cooked and tossed in spices and leaves you sweating at the end of it. Apart from the kheema, you must try their Kolhapuri-style mutton and chicken sukka which is too good to describe. A meal for two will cost you approximately INR 1000.
Ask Divya a question