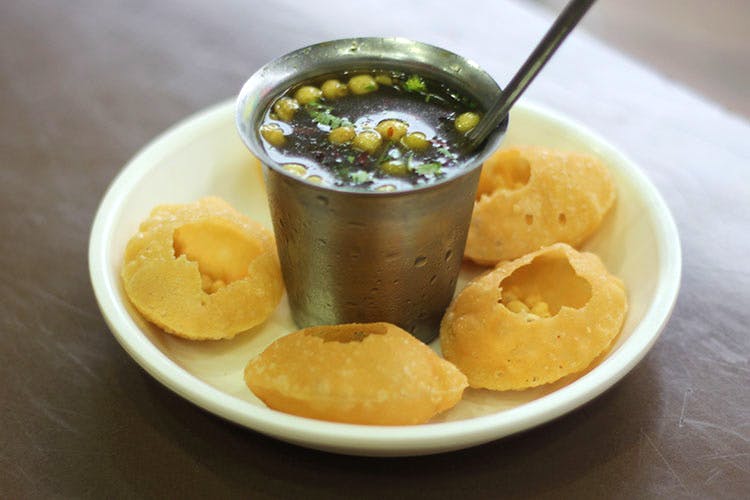 It's Snack Time: We've Found The Best Pani Puri In Pune
Who doesn't love pani puri? A small crispy round puri, filled with mashed potatoes, chana and lastly the tangy and spicy pani. It's like the food of the God's. We know how everyone has their favourite pani puriwallah, but we couldn't resist narrowing down a list of the best pani puri in Pune. Much away!
Natraj Bhel
In the lane adjacent to Khalsa Dairy (which has a fanbase for sweets, samosas and cutlets), Natraj Bhel is ruling the hearts of people from Viman Nagar. Their pani puri comes with an option of either potato filling or ragda. Natraj Bhel also serves a side of finely chopped onions and/or boiled chanas which we have observed a number of people like. Apart from your favourite pani puri, you can also indulge into a number of other chats such as, samosa chaat, ragda pattice, shev puri, bhel and more. They also serve a number of other snacks such as pav bhaji and dosas.
Datta Mandir Chowk
Opposite Venky's store near Datta Mandir Chowk, you'll find a simple pani puri thela. Owned by a man who serves pani puri with a smile. We have tried to find out where he sources his puris from cause, boy! There's some magic in them. His delicious pani puri for INR 20 is served with the classic potato filling, which has a few secret ingredients to it. We insist that you try his teekha pani puri and if it becomes too spicy for you, balance it out with a plate of simple sukha poori. This man sits exactly outside Venky's outlet and you can indulge in it from 4pm onwards, everyday.

New Bombay Pani Puri
Get a load of over six different types of pani puris at the New Bombay Pani Puri in Aundh. A humble street vendor, New Bombay Pani Puri serves pani puri with a twist. Take a mouth full of different pani puri flavours such as jeera, lasun, hajma hajam, pudina, nimbu and the regular teekha and meetha. You can either opt for one plate, which will have six puris with all different flavours. The best part is, you get this pani puri for INR 20 per plate only. If this doesn't excite you, are you even a pani puri lover?
Om Jai Shankar Pani Puri
Once you are done shopping on the streets of Camp, head towards Om Jai Shankar Pani Puri on Babajan Chowk. You can also satiate your taste buds with a number of other chat options such as special tokri chat, ragda puri, dahi puri, delhi chaat, Bombay chat among many other options. If you are not comfortable to stand and eat, these guys also have seating arrangements. If you are too lazy to step out, you can get chat delivered from here through mainstream delivery partners.

Murli Pani Puri
Here's a challenge for you: Try to stop at just one plate of pani puri at Murli in Camp. Serving from a small thela and a shop on the lane next to Dadu's Sweet Emporio, you will find the most famous pani puri in Pune. These guys make one of the most delicious pani puri filled with potatoes and/or ragda for INR 25. If you are that person who likes their pani puri in teekha flavour, we recommend you try out Murli.

Comments