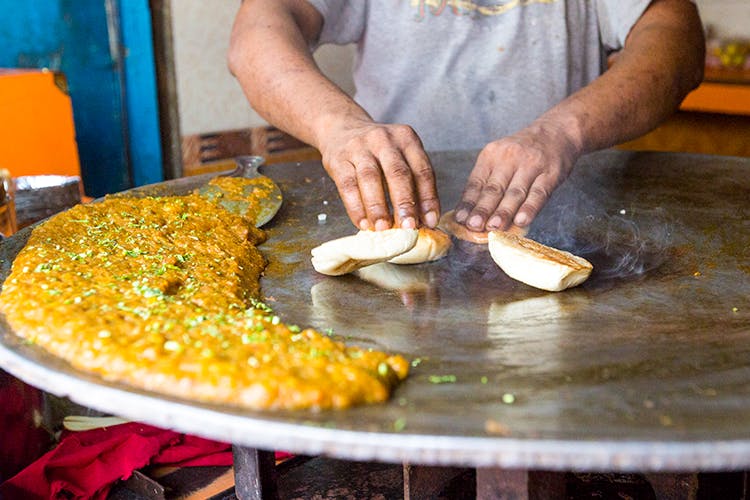 Utterly Butterly: Here's Where You'll Get The Best Pav Bhaji In Pune
You can't be in Pune and not have local food. Pav Bhaji is a crowd favourite. Cheap, hearty and butterly delicious, no one can resist the butter laden pavs and the aromatic bhaji. We've made a list of the best pav bhaji joints in town and you need to visit them all.
Kalyani Veg
Kalyani Veg is one of the most popular places in Pune. It is a place enjoyed by professionals, students and even families. Though they serve food of every kind, their special pav bhaji (INR 110) is a favourite of many. It is buttered through and through and also has a generous quantity. They have several variants of this classic in mushrooms, Jain, cheese as well.
Supreme Snacks
Supreme Snacks has become so popular amongst the college students that you might even have to wait for a seat. But, trust me, it is worth the wait. Their pav bhaji (INR 110) is let to simmer an extra minute on taw to absorb all the flavours there are and the pav is tossed in butter to get that crunch.
Relax
Truly the relaxing hub and eatery of the youth. They have an indoor and outdoor seating area and also a takeaway option. They are especially famous for their budget-friendly options but fret not, they still serve one of the spiciest, juiciest and yummiest Amul pav bhaji (INR 105) in town.
Samudra
It is quite easy to miss this small outlet with so many eateries around but this is not place you want to miss out on. Their samudra special pav bhaji (INR 120) with an overload of butter and aroma will have you licking your fingers and craving for more in no time.
Cream Craver
When at Cream Craver in Camp or NIBM, you cannot give a miss to their signature butter-laden pav-bhaji accompanied by a thick mango shake. Costing just INR 135, you can enjoy Bombay-style pav bhaji and if you are a cheese lover, opt for their cheese pav bhaji. They also serve Jain pav bhaji for those who would like to avoid onion and garlic.
Cream Centre
Situated in Viman Nagar, Baner and Bibwewadi, Cream Centre is known for its modern Indian cuisine and elegant ambience. Try a plate of steaming hot pav-haji and indulge in this buttery street delicacy for just INR 199. Wait! They have a unique way of serving it. It's not in a plate but in a fondue style, where pavs are torn into small pieces and bhaji is in a fondue container. It's a desi take on a Swiss cheese fondue.
Kadhai
Kadhai is a small joint hidden in Ozone Mall on ITI Road and it also serves hot and delicious pav bhaji for just INR 70. If you love butter, try their buttery bhaji by shelling out INR 10 extra! The taste is homely and it is fun to see the buzzing road while enjoying this comfort food. Make a note, they also make yummy mithais and rabris (just telling).
Rudra Pav Bhaji & Juice Bar
This exclusive pav bhaji and juice joint in Aundh is known for its authentic lip-smacking taste and affordable rates. A plate will just cost you INR 80 and along with the dish, you must try their amazing juices too! We suggest you also try their masala pav which is also a specialty. Also, it's open till midnight! So, if you are having hunger pangs late at night, you know where to head.
Shiv Sagar
Situated in Pimple Nilakh, Aundh and JM road, Shiv Sagar is the first name when we say pav bhaji. Starting at INR 105, they serve amazing pav bhaji. Try their special Shiv Sagar pav bhaji which also comes in Jain variant. While here, do justice to your tummy and combine a plate of this dish with a plate of spicy tava pulao. You will thank us later!
MH 12 Pav Bhaji
Just like the name resonates to some highway, the taste of pav bhaji is rustic and yummy. Starting at INR 110, the pav bhaji is made with extra dollops of butter and spice. They also have wheat pav bhaji and munna bhaji plate for kids! You can visit MH 12 Pav Bhaji in Baner even post-midnight to satiate late-night pangs as it is open till 1:30 AM.
Comments