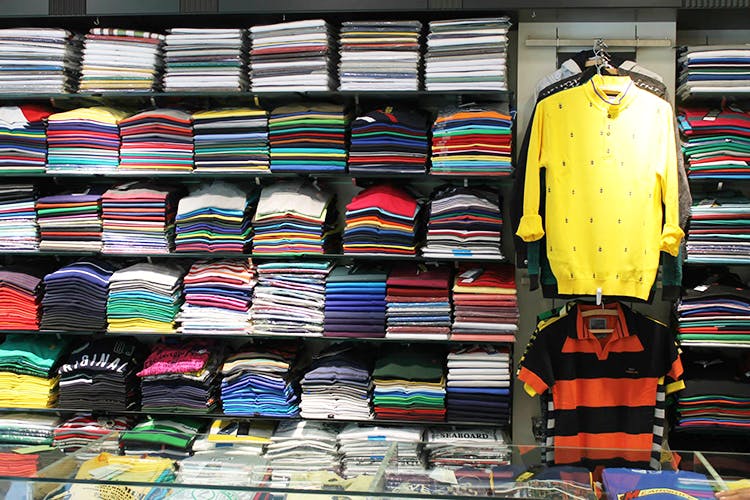 Shirts, Jeans & More: Men, Hit These Five Pune Shops To Score Everything Under INR 800
Ten-Second Takeaway
While guys usually love a quick shopping experience, who would mind spending some more time, if you can get quality clothes for dirt cheap?
Men's Avenue
One of the leading stores in the city, that stocks a variety of clothing for men! They have been in the market for years. The store is huge! You can stroll across to find a perfect T-shirt for yourself. Not just T-shirts, but they even have denims and traditional wear. The designs change every now and then to keep up with the trends. Plus, they are very affordable too!
The store is pretty big, so take out time and not head out for a quick shopping day here!
Sai Men's Boutique
This place is what we call, a small hidden gem – literally! If you like different colors, then this is your go-to. You can buy your favorite collar T-shirts for everyday use, and more at great prices. Sometimes, you might even find trendy casuals like Ombre or basketball tees. They also have graphic tees under INR 500!
Make sure to be friends with the owners, and if you are a regular, he will just pick out the best pieces for you which are under INR 500.
Hatke For Men
Just as the name suggests, this one is a bit different! You can spoil yourself with some good T-shirts, colorful shirts and distressed denim too! Usually, all their stock changes every week or so. They have really great T-shirts for basic day-out wear. Sometimes, you might have to really look for your perfect T-shirt or denim, for a while. But, it is worth the time!
They have really quirky graphic tees, if you are a fan.
Trios
They are big on the sizes! They stock up sizes from S to XL. Most of their stock is imported, and you can find great casuals at cheap bargain prices. At times, it can be a task to find your exact size, but don't worry they will help you out.
Bold&Elegant
One of those huge, fixed rate stores selling new and aptly priced styles every week! They have a variety of clothes for you to choose from. They have cute T-shirts and traditional wear. You can easily find a nice and affordable Kurta for everyday wear within INR 800! If you like formals, you will find those too here.
The sales guys are too chill! They will help you pick the best fit.
Comments