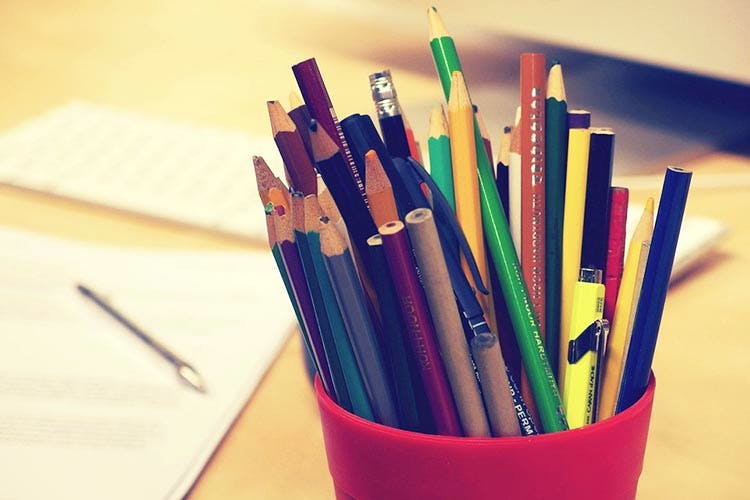 5 Best Stationery Stores In Pune To Turn To For All Your Desk Supplies
Cute hand-made journals, funky pen-stands, smooth pens or simply a bunch of sheets, unknowingly, stationery is one of the most important part of our lives. And for those of us who love collecting special journals, bookmarks and like all things pretty on our desks, these stationery shops in Pune are our shopping destinations!
Venus Traders
Venus Traders on FC Road, near Smart Inn, is a one-stop stationery destination for every stationery lover in the city. The two-storey store has everything one can imagine in terms of stationery. From writing materials to bags, canvas, calculator, umbrellas, coloring books, paints, water bottles…they have all your requirements stocked under one roof. So get yourself a complete painting kit for INR 600 or a laptop cover for INR 350. And if exams are coming up, don't forget to get those gel pens in blue and black, starting at INR 5 a piece.
ABC Stationery Wholesale Retail Shop
Standing tall and proud on Budhwar Peth since times unknown, ABC Stationery is synonymous with everything remotely associated with stationery. Get sketch pens, erasers, charcoal pencils, paint brushes, geometry boxes and sling bags at a wholesale rate out here. Don't try to buy stuff in singles, instead get hold of items like measuring scales, ink pots, sharpners and pens in a bunch to get a handsome discount on your purchase.
Gaurav Enterprises
This quaint little stationery shop nestled in Koregaon Park will end all your stationery woes the moment you step in. The store has a collection of international and local brands, catering to customers of all ages and budget ranges. If you love to paint, buy acrylic or oil canvases that come in various sizes, starting from INR 250. Gaurav Enterprises has an array of paint brushes for INR 60 and boxes of colours, starting INR 200.
New PPC Stationery
The New PPC Stationery & Printing Hub, behind Hotel Roopali at FC Road is one of the leading distributors of stationery in the city. The well-bifurcated racks are always filled with boxes of pens, pencils, erasers, scales, sketch pens, paint brushes and staplers that come at a dirt cheap price. If you're looking to buy chart, handmade and A4 size papers, PPC is the place to be. Also, this store gives printing services, comparatively at a cheaper price versus the rest of the competitors.
Popular Stationers
If you're a student of Symbiosis, Viman Nagar, you must have heard or even visited Popular Stationery at Datta Mandir Chowk, opposite Skymax Mall. These guys keep full sets of engineering drawing materials, starting INR 230 onwards and USB cords, earplugs and pendrives, starting at INR 150. Needless to mention, your usual stationery requirements like gel pens, erasers, papers, notebooks and more come at a surprisingly cheap price.
S.P. Stationery
Stacked with quite a collection of colourful chart papers, wrapping papers and great quality handmade papers, S.P. stationery store, located on Baner-Balewadi road is a heaven for all you stationery loving peeps. Read our recommendation to know more.

Comments