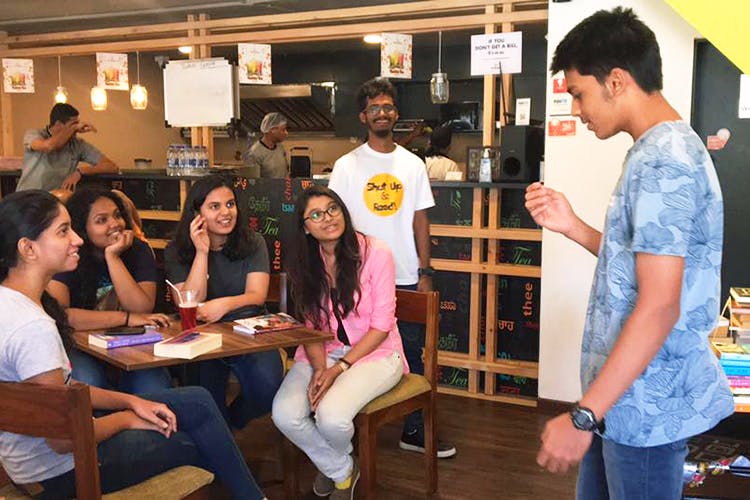 Read, Interpret & Discuss: Book Clubs In Pune For Avid Readers
Shortcut
Are you an avid reader? Or a budding writer? Meet people with similar interests and geek out on your favourite books and authors. These book clubs in Pune are the perfect community to be a part of.
Gyaan Adab Centre
With a stimulating recreational and interactive creative arts space Gyaan Adab centre is a book club to look out for. This is the place where people of all ages may read, interact and share in the exciting experience of literature and the arts – with freedom. Their meetups are perfect for enthusiastic readers, as it is a true combination of modern and traditional literature. There's no cost for meetups and the centre is located in Kalyani Nagar.
Pune Book Readers Club
The club started with the intent to meet people who share the love for good literature, like to read, and gain intellectual insight into various word art. This group actively discusses, interprets and shares their viewpoint with others on various literary works. Anyone who enjoys reading classic novels, poetry, short stories, allegories, etc. is eligible to join this group. The format of the group requires every member of the group, in rotation, to pick a book for everyone to read and host the intellectual meet for that book. So if this sounds exciting to you, join their Facebook group to know about their next meet up.
BDB Book Club
BDB Book Club is a social endeavour of BDB India Private Limited, popularly known as BDB. Communicating and socialising with different people of varied communities, this book club is very active in terms of organising and having a meet up. Generally, they meet 1-2 times a month showcasing different authors in their discussion sessions; this club is free to join. They constantly update their meetups on their Facebook page, so you can keep track of their next meeting.
Bookoholics Book Club
This is one of the most active and enthusiastic clubs in the city. Comprising mostly young people, this club has its meetups every month. There is no specific place in Pune where the meetups are carried out. If you are a hardcore book nerd, you should give it a shot. They regularly update their meet-ups on their Facebook page, so its best to check out when they're meeting next and also join their Facebook group to stay in touch with the club.
Ask Neel a question