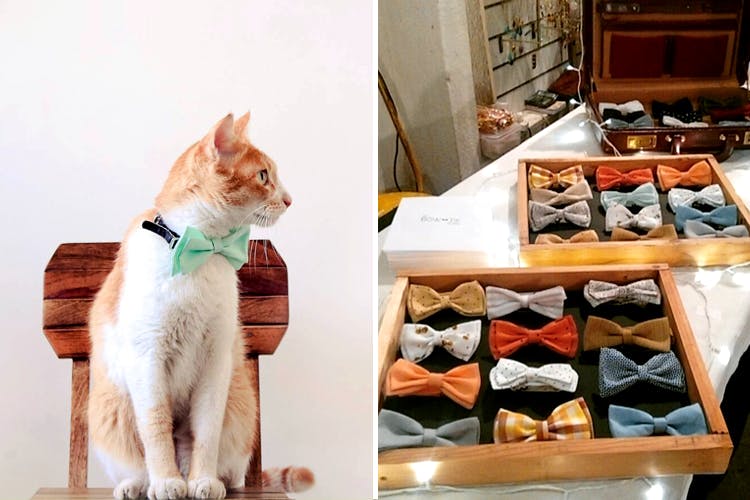 Get Customised Funky Bow Ties, Suspenders & More For Men, Women & Pets
Shortcut
Chanderi silk bow ties, quirky suspenders, sophisticated pocket squares and much more! Ace your vintage look with these accessories from The Bow Tie Company by the 22-year-old fashion designer, Komal Soneji. Did we mention she also makes the cutest range of matching bow ties for pets?
Tell Me More
Ask Komal about her label's agenda, and she says, it's all about setting a trend where bow ties become a part of a non-traditional, casual look! And, we cannot help but agree. Scroll through The Bow Tie Company's Instagram page, and the photographs are a treat for the eyes – a team of girls flaunting their silk bow ties over white tees, a groom looking dapper in a suit and a mint-green bow tie and OUR FAVE, an adorable pug carrying off a cute little bow like a total pro!
The best part about The Bow Tie Company is it's run by an one-woman army and doing exceedingly well for over a year. From designing to photography and social media marketing, Komal does it all from her home at Kothrud.
Starting at INR 300, we are infatuated with the collection of bows, suspenders, pocket squares and ties in elegant prints, funky hues, classic hand embroideries and soft fabrics. You can also customise your own set of accessories, starting at INR 600. All you have to do is either fix up a meeting with Komal through social media or contact her at +919765589795, show your outfit, select a print and the rest will be taken care of.
The range of pets' bow ties are absolute love! Priced between INR 600 and INR 700 for dogs, and INR 300 for cats, get a bow tie for your furry friend that matches with your tie! How cute is that?
Anything Else?
Komal takes bulk orders for corporate events, weddings, bachelor and bachelorette parties and/or any event under the sun. An order of 10 to 20 bow ties, pocket squares and ties, takes about a week to get delivered, for an order of 50 or more, she takes about three to five weeks to make and ship them.
So, We're Saying...
We are sold just by the fact that this fashion label can make funkiest of bow ties for us and our pets! If you're too, get in touch with Komal, and don't forget to follow their Facebook page.