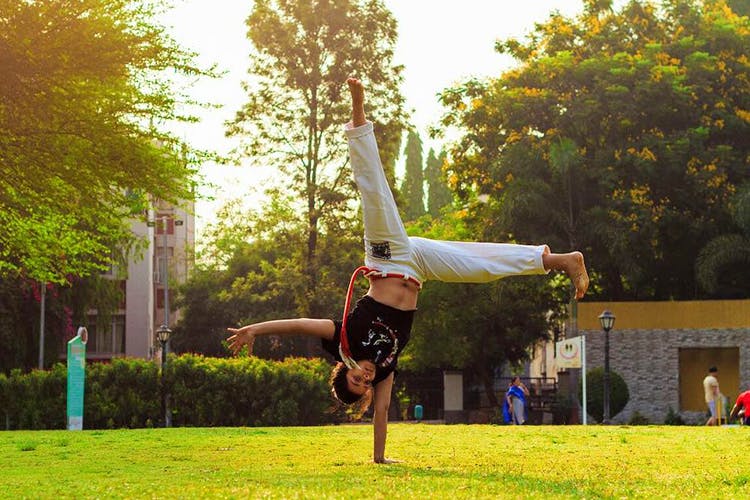 Tired Of Gyms? This Brazilian Martial Art Will Help You Lose 500 Calories In An Hour
Shortcut
For those of you who have given up on gyms and diets, here' something that will pique your interest. Stay fit through Capoeira, an ancient Brazilian martial art taught at Capoeira Pune at various locations. Read more to find out
What Makes It Awesome?
Capoeira is a traditional Brazilian martial art, developed by African slaves in the 16th century. Now, how will it help us in losing weight and staying fit? We hear capoeira is one of the holistic ways of overall fitness that amalgamates everything from music to dance and acrobatics. It massively helps in building upper body and core strengths, improving stamina, flexibility, balance and coordination and reducing stress levels. Besides, an hour of capoeira burns about 500 calories. That's very intense!
At Capoeira Pune, it is all about preserving this age-old art form and gradually building a community. Sagar Jain, who is the instructor, joined capoeira in 2011, under the guidance of Mestre Caxias as a part of the bigger family, Grupo Capoeira Brasil. Currently, he takes classes at Kalyani Nagar, Lulla Nagar, Aundh and Baner.
The classes, start by introducing you to the basic form of capoeira and moves forward to more complex variations, depending on your progress. All you have to do is show up for the class with a towel and a bottle of water. Nothing more, nothing less.
The registration too is fairly simple. Either call Sagar at +9197 66 48 1796 or mail at arrepiado@capoeirapune.com for all the deets.
What Could Be Better?
Currently, the weekend batches for adults happen only at Kalyani Nagar and Lulla Nagar which makes it difficult for working professionals who live in more central parts of Pune. We hope they come up with more batches and locations soon.
Pro-Tip
Before you register, check out one of their classes on their official YouTube channel.
Comments