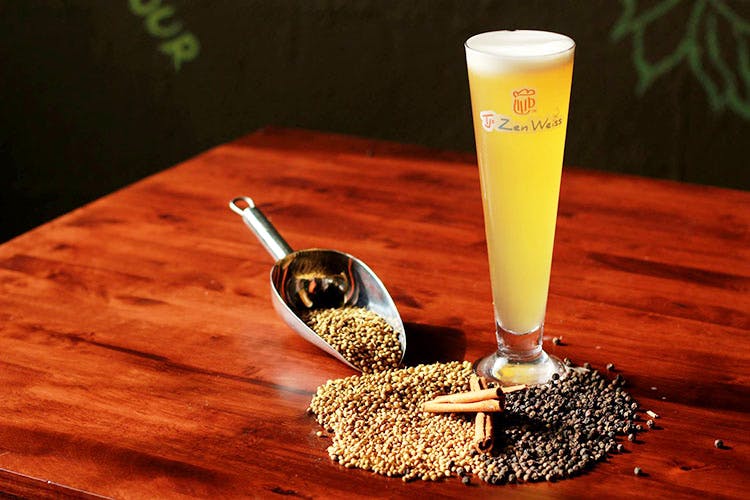 For The Love Of Beer: 4 Homegrown Breweries That You Should Know About
You can't cool off in the summer without a cold sod. And for that Pune's micro-brewery scene is thriving. While breweries like Doolally and Independence Brewing Co. have become household names to anyone who loves beer, here are a handful of other brewers in Pune, that you should check out.
Moonshine Meadery
Founded by Rohan Rehani and his business partner Nitin; the idea for starting a meadery came about on a trip abroad, through an in-flight magazine article on home-brewed meads in the UK. Having tried their hands at home-brewing on a trip to the United States; they eventually settled on brewing mead, since it wasn't available anywhere in India. Mead is an alcoholic drink made by fermenting honey – it's deliciously smooth, and power-packed. Rohan says that the history of mead even pre-dates that of beer and wine, but it isn't as well-documented.
Their brewery – Moonshine Meadery – isn't as illicit as the name suggests, and is probably one of the first and only meaderies in India to brew mead, since the past 1,700 years. Keep an eye on their social media channels for timely updates and to know more about where you can sample their brews.
Kimaya Brewing Company
Kimaya Brewing Company was started by brothers Saurabh and Sameer Patwardhan, and Sapan Maniyar. Hailing from a restaurant background, they'd tried their hand at home-brewing in the U.S, before coming back to India to start their own initiative. Saurabh says their motto is 'brew local, drink local', and so they operate with a focus on community.
All their machinery, material, and ingredients, are sourced locally (their buckwheat even comes from a nearby tribal village, courtesy Happy Roots). 'Kimaya' means divine magic, and so their beers veer away from traditional tastes, to something more ethereal. Their brews include Irish red, English amber ale, and Belgian wit.
Great State Aleworks
While studying in Brooklyn (a hub for craft beer), Nakul Bhosle found himself drawn to a home-brewing store he used to pass by everyday. He decided to try his hand at it and was instantly hooked. Living in Brooklyn meant is was easy and economical to get started, and he had constant support from others in the trade. Nakul moved back to India two years later, and decided to start his own venture – Great State Aleworks (GSA) – once the State Govt. passed a law making it legal for microbreweries to distribute their beer. Having been exposed to the American craft beer scene on such an intimate level, Nakul's inspiration stems from that; GSA's flavours are bold and experimental, without compromising on quality and flavour. Joined by Rohan Hastak, and two more professional brewers, this microbrewery grew quickly. Their brews include Mr. Blue Sky which is a white ale, a Belgian witbier called Brightside and their signature pale ale called Off Duty.
Effingut Brewerkz
Effingut Brewerkz was started in Koregaon Park in 2014, out of a passion for great beer and a drive to create something legendary. A full-fledged brewery and eatery, they soon expanded to Baner and Kharadi. Effingut's ethos is, "to create food and beer that venture away from the routine and conventional" and so you can expect the unexpected as far as their menu is concerned. They take pride in the fact that all their brews are made fresh, hand-crafted, and contain absolutely no preservatives, chemicals or artificial additives. Each outlet has about 8-10 of their signature beers on tap, some tailored to the Indian palate, using local ingredients.
Regular staples across all their outlets include an unfiltered hefeweizen, an apple cider, mango chilli cider, peach ginger melomel, choco coffee stout, best bitter ale, and a kölsch.
Comments