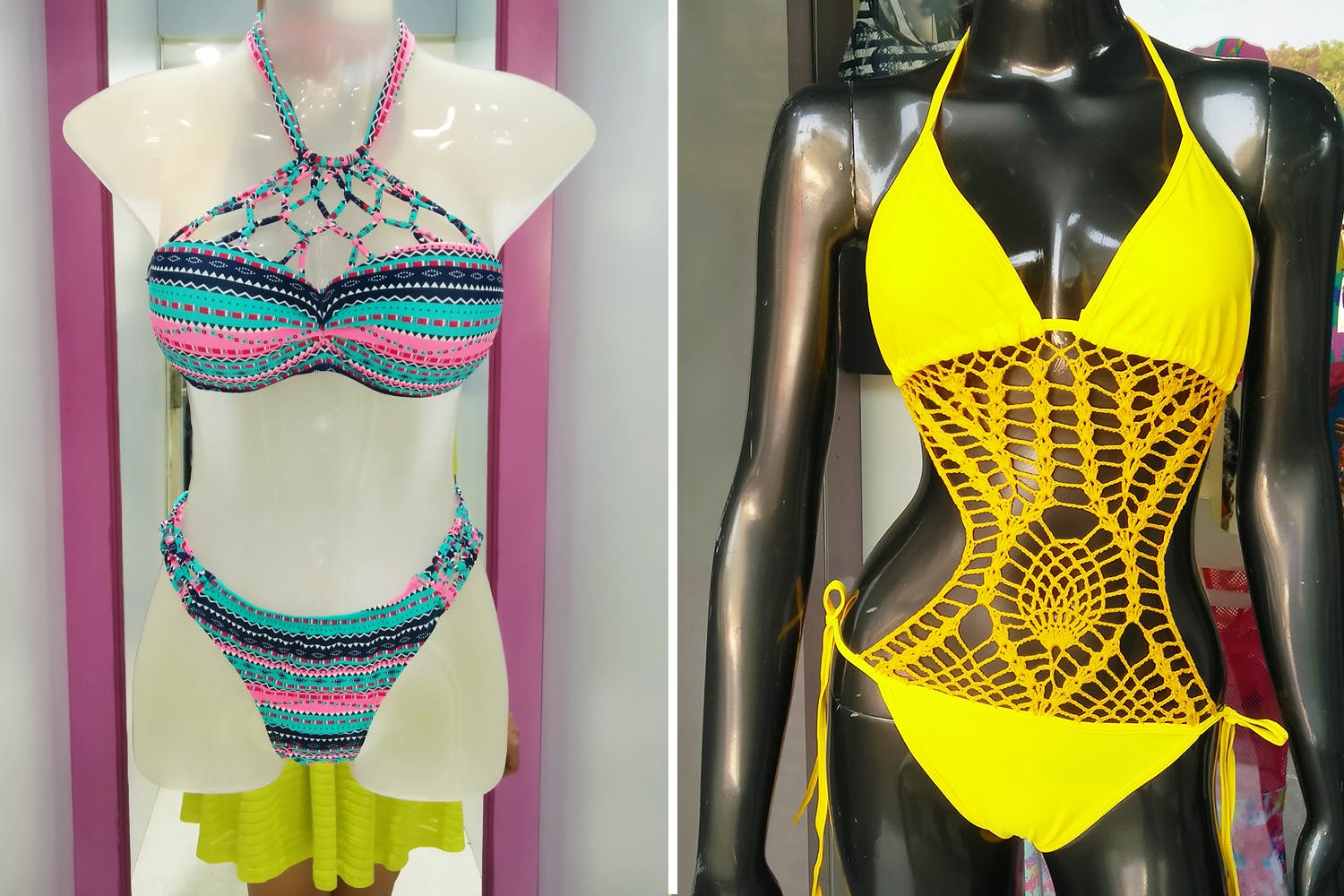 Go Bikini Shopping In Camp & Find Gorgeous One-Piece & Sexy Two-Pieces
Swimsuit season is here! Show off your 'beach body' and sizzle in these gorgeous one/two pieces. We've scoured some of Camp's most popular boutiques to find you the perfect swimwear for every size, shape, and budget.
Gatwick
Gatwick on East Street has a collection of bikinis, monokinis, and tankinis in every size, style, colour, and pattern you can imagine. We found a really cute cross-knit bikini for INR 1500, a mesh v-neck floral white one-piece for INR 1650, a yellow crochet monokini for INR 1850, and a turquoise shorts two-piece with a beachy cover-up top for INR 2500. Most of their basic swimwear starts at around INR 1000, and pieces are one-of-a-kind, and in single-size only (different pieces are of different sizes). We also found swimming caps for INR 250, and swim goggles priced from INR 350 onwards.
Sensational
Sensational is a lingerie store in Kumar Plaza, just across the way from Gatwick. We found a cute shimmery blue and black leaf-print string bikini for INR 850, and a gorgeous deep-green cut-away monokini for INR 2500. Their women's swimwear range is priced between INR 750 – 3000, and they have swimwear for young girls (kids) as well.
Dark Fantasy - The Lingerie Shop
We loved the selection of bikinis at Dark Fantasy in Clover Center. Available in different patterns, individual sizes, and prints – they'll cost you INR 895 each. Our picks were a navy blue string bikini, a neon-striped bandeau bikini, and a black-and-white tribal print with turquoise tie-ups. This was our most affordable discovery yet, and we were quite pleased with the choices available, and the value-for-money prices.
RS's Attire..Again
At RS's Attire (for nightwear, lingerie, and more), we dug through their swimsuit collection and found a couple of really cute bikinis. We loved a basic neon yellow string bikini for INR 895, a mix-n-match blue crochet bikini top with tasselled string bottoms for INR 1295, and a high-waist palm tree striped set for INR 1295. Though most of their bikinis are available in sets, you can also do a little styling of your own by picking different top and bottom pieces.
Hips & Curves
Hips and Curves had a limited selection of bikinis, but we found a cute monochrome set of a palm tree bikini top (black and white) with plain black bottoms for INR 1295 and a nice string bikini for INR 1395. It's a little pricier than what we'd seen so far, so we recommend hitting this shop last (if you don't find anything else).
Comments