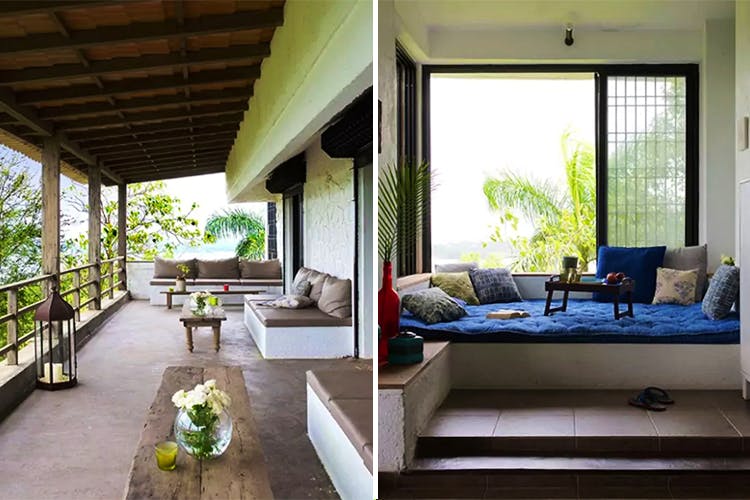 Go Off The Grid & Stay At This Hilltop Villa In The Middle Of Nowhere
What Is It?
Perched on a hill, in the middle of nowhere, Bungalow 89 in Lonavala is the quintessential peaceful getaway sans connectivity, crowd and noise.
How Do I Get There?
Bungalow 89 is located at Khondagewad in Jalvaayu Marg, right next to Bhushi Gaon in Lonavala. It takes about an hour-and-a-half to reach the bungalow from Pune. For more accurate details, get in touch with the host here.
What Is So Awesome About The Place?
Monsoon is perhaps, the best season to book a stay at Bungalow 89. The villa looks absolutely stunning against the lush green backdrop and the misty blue skies. What we loved the most about Bungalow 89 is its location – quiet and secluded; apt for a much-needed digital detox. The top views of vast valleys are simply breathtaking, something out of a postcard from a foreign land.
The villa has three bedrooms, spacious enough to accommodate a group of 10 or more. The decor is simple yet refreshing – soft pastel tones, undone bricked walls, minimalist decor and vintage furniture. The balcony is our favourite. It has a beautiful swing and it overlooks the Bhushi Dam. In other words, one can sit there with a book and let the hours pass by.
Despite the location and its overall appearance, Bungalow 89 is well-equipped to make your stay comfortable. There is a kitchenette stacked with crockery and basic equipment like microwave and refrigerator. The guests are also provided with toiletries and towel during the stay.
Anything Else?
Bungalow 89 costs about INR 17,538 per night for a group of 13. However, the pricing depends largely on availability and season. For more details, click here.
Comments