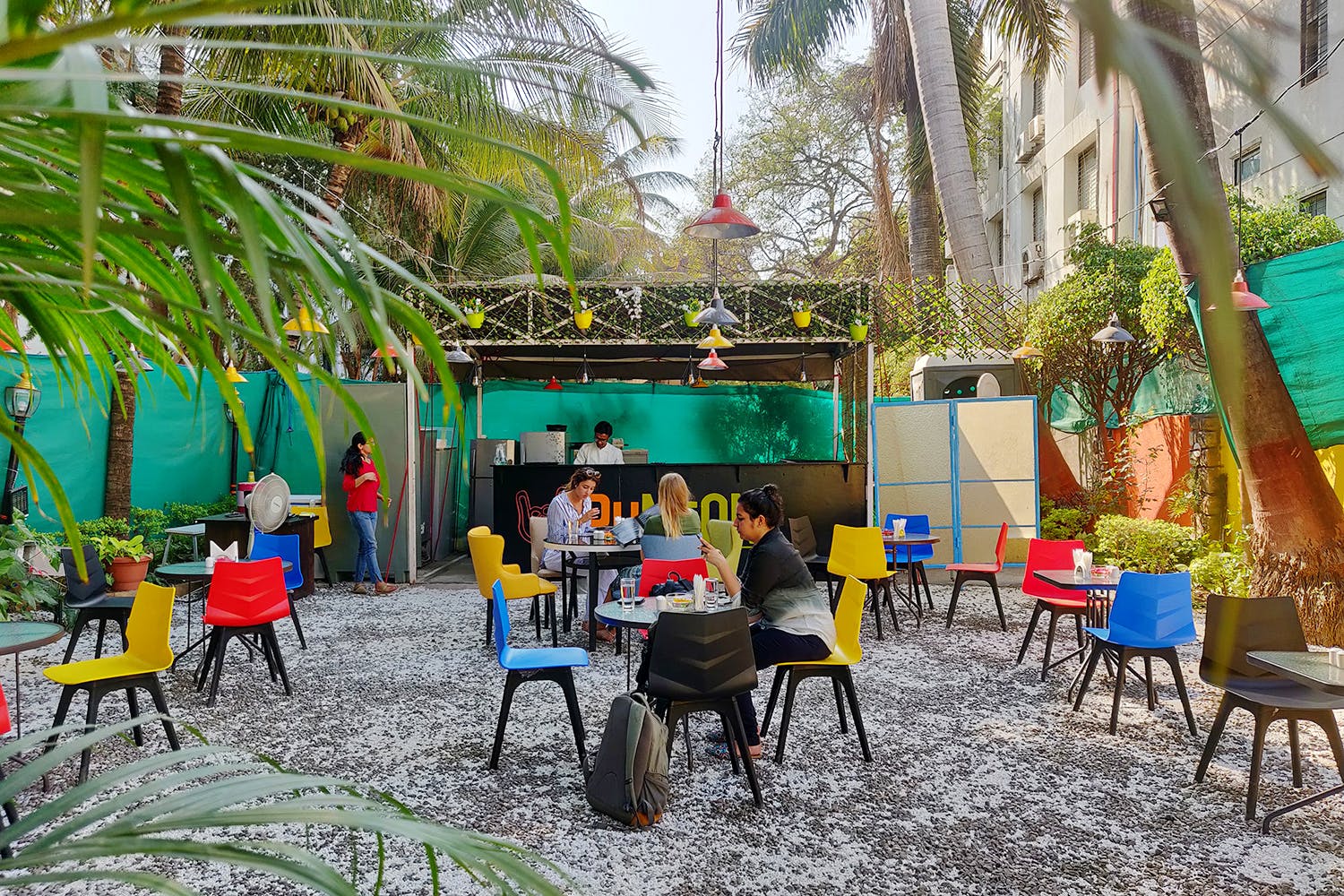 Eat Under Giant Palm Trees As If You're In Goa At This All-Day Cafe
Shortcut
Replacing Captain Parbat on Baner main road, Cafe PuNeON is an all-day cafe perfect to grab a quick bite. By night, its pretty setting will make you want to linger around a bit longer.

What Makes It Awesome?
Cafe PuNeOn has a confusing name. If it's supposed to be neon, the ambience doesn't scream that. But walk in, and you'll find lights hung in tiny jars near the entrance. It's an open-air space that has a lovely shade of the palm trees under which a handful of colourful chairs and tables sit on white pebbles. It's simple, almost rustic and will give you a Goa vibe on a hot day.

The menu is a hotchpotch of multiple cuisines. You can get a few juices and shakes, some salads, chaat, mezze platters and pizza, gourmet sandwiches, pita pockets, wraps, and even some rice and a few Indian dishes added in for good measure.
For a late lunch, we settled for what the chef recommended, a chicken tikka pita wrap and a vegetarian grilled focaccia sandwich. A few of the breads are made in-house, we suspect the pita is. As it was soft, light toasted and the chicken tikka was the right amount of creamy and spicy. We have no complaints. As for the grilled focaccia, it had very strong Italian flavours, the sauce inside was tomato-ey, the mushrooms and other vegetables were crunchy and it was a filling bite. Our cold coffees were a little bitter (just the way we like it!) and topped with a small scoop of vanilla ice-cream… yum!
Needless to say that the all-day cafe does a good job with its cafe fare. But we were told they're also pretty good at their chaats. We'll surely keep that for our next visit.
A meal for two will cost you INR 600. The cafe is only a few days old, but the service is fairly swift despite the small team. It also has an open kitchen, so you can take a peek and see how your food is being cooked.
What Could Be Better?
The cafe should've stuck to its cafe fare instead of adding all the dishes they could think of to their menu. Also, can someone please solve the mystery in the name? To be honest, apart from the name being spelt out in neon colours inside and out, we didn't find anything neon here.

Pro-Tip
Go here to while away time and munch on their pita pockets and sandwiches.

Comments