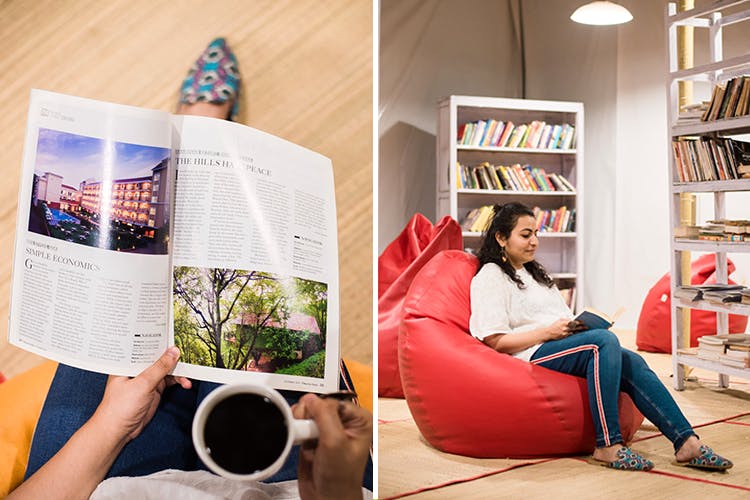 Make You Own Workstation At These Cafes In Pune
Workaholics realise the importance of having a great mug of coffee, a strong WiFi and surroundings that will only facilitate their work. All of this is possible at cafes in Pune that offer a comfortable seating, several plug points and more. If you're a freelancer or work remotely for a company, here are the best cafes to work out of.
Cafe Pondi
Sip on a traditional filter coffee or dig into a delicious bowl of tomato rasam risotto at Cafe Pondi. Known for the Pondicherry vibe that Cafe Pondi offers, the calm surroundings allow you to focus on your work. If in case you need a break, pick out a book from their bookshelf. The cute corners and comfy couches give the feel of working from home. Cafe Pondi also has a number of plug points throughout the cafe. In case you aren't comfortable at a particular spot, just move closer to the plug point.

Coffee Jar
A quaint cafe in Viman Nagar, Coffee Jar serves the kind of coffee that you need to keep your head in the game. If you're not a coffee person, Coffee Jar also brews a number of teas and our favourite is the orange spicer. During summer, try their coolers such as blue curacao, raspberry iced-tea. Apart from the drinks, try their sandwiches, pound cakes, rolls and also their home-baked cookies. Their WiFi provides good and a strong connection.
Fresca Deli
Good food, great coffee, strong chai and a stronger WiFi. Fresca Deli offers you a choice of appetising burgers and sandwiches. Of their burgers, the classic chicken tikka burger and paneer tikka burgers are our favourites. You can also try their shakes such as rose, rasmalai, triple chocolate and many others. These guys don't really have a public WiFi, but ask politely and the staff will comply.

The Book Cafe
Pick out your favourite corner in The Book Cafe in Kothrud and sip on some chilled shakes or iced-teas as you engage in a story. Even if it is ideal for book nerds, The Book Cafe allows you to work from anywhere in the cafe. The cafe charges a nominal fee of INR 50 for three hours to use their WiFi. The Book Cafe also has plug points throughout the place. The quiet ambiance detaches you completely from the hustle and bustle of Kothrud.
German Bakery Wunderbar
Work as you sip on a chilled pint of beer at the German Bakery Wunderbar in Kalyani Nagar. With their options of all-day breakfasts, desserts and obviously the strong WiFi connection, Wunderbar in Kalyani is our next place to work from. The beautiful surroundings offer motivation to even work on the dreadful Monday.
Comments