Take A Trip To Chocolate Heaven At This Store Selling Mint Crisp Cadbury, Cookies & Cream Kit Kat & More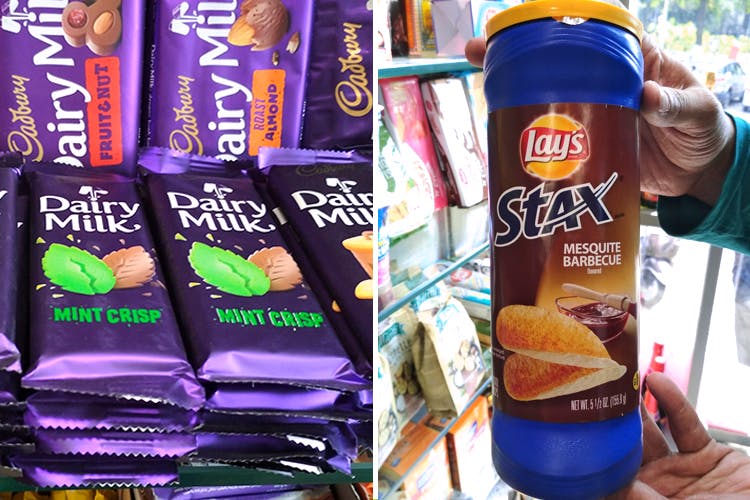 We found truckloads of awesome at Choconuts, a one-of-a-kind store at MG Road that sells imported gourmet treats from across the globe. Run by Mufaddal Kanorewala, this place, opposite CCD is a treasure trove of little-known Cadbury flavours, premium coffee, personalised Brugge bars, jams, exclusive salad dressings and much more.
For The Chocolate Connoisseur
Here's the thing about Choconuts – you will not get these imported chocolates anywhere in Pune. Head here for the most exclusive Dairy Milk versions such as mint crisp, buttery top deck and white chocolate with biscuit. Dark chocolates, on the other hand, are a whole new deal out here. Here's where we spotted supreme Lindt bars with 99% cocoa and Didier and Frank's luxurious dark chocolates in mocha, red chilli and cinnamon flavours. That's not it! Hunt for more and you'll see shelves well-stacked with colourful Brugge bars that say 'Best Dad Ever' and 'Thank You Very Much'; limited edition of white Skittles, Kitkat's family pack of cookies and cream, edible chocolate spoons, Hubba Bubba gums…we could go on and on.
Anything Else?
If you're a seasoned coffee drinker, Choconuts is perhaps the place to be. Check out this limited edition Davidoff Cafe Horizon Grand Cuvee for INR 700 and Beanies coffee powder in amaretto almond and chocolate orange flavours. For those who love to keep their diet healthy and clean, the assortment of imported berries, nuts and quinoa at Choconuts will spoil you for choices. However, don't forget to buy the exclusive Lay's mesquite barbecue chips and Terra's real vegetable blue chips for those unavoidable cheat days!
#LBBTip
Jams, sauces, pickles and salad dressings…this store is full of 'em! Our recommendations? Mackays' seedless bramble preserve and Dabroh's apricot and strawberry jams.
Comments