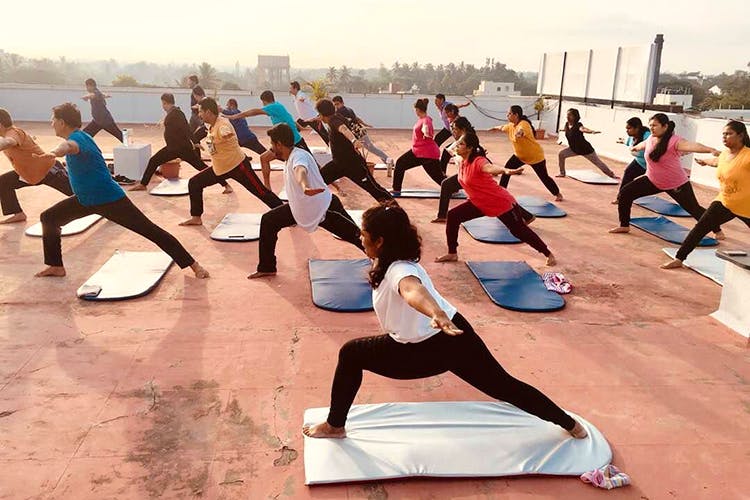 Dance, Yoga and More: The Best Fitness Classes In Pune To Lose Those Calories
Ten-Second Takeaway
A workout is the best stress buster and we truly believe that. Nothing is better than a regular fitness routine to make you healthy and your heart happy. So shed those extra kilos with Yoga, Aerobics and more in these fitness classes around Pune.
Slimwell Fitness Studio
For those ladies who like their workouts to be fun and energetic, Slimwell is the best place to be. This ladies only fitness studio has Zumba, Power Yoga, Dance Aerobics, and many more activities to keep you healthy and fit. The price for the class depends on the activity you choose and the duration of the activity. So ladies, just pack your kit bags and get ready to get as fit as ever.
Talwalkars
This fitness chain requires no introduction. Talwalkars has been one of the finest fitness studio chains in India since 1932 and they have their branch at multiple places in Pune as well. With a wide range of weight loss and fitness programs including Zumba, Aerobics, and Yoga, they also have highly professional and passionate trainers. The facilities also include latest equipment and skilled dieticians who will guide you in your weight loss program.
JK Aerobics and Dance Classes
They are considered to be one of the best Aerobics classes in Pune. Apart from Aerobics, they also conduct classes in Yoga and dancing. They have some of the best trainers in town. For those who want to lose weight, these classes will be the perfect place to be.
Multifit
One of the most famous chains across India, Multifit offers a complete holistic approach towards fitness and makes your workouts addictive for you. Apart from the 360- degree fitness activities including endurance training, Boxing, Yoga, and Dance based therapies; they also offer highly experienced trainers. They have a number of branches across Pune so join the nearest one and discover a healthy and happy you.
Solaris
Solaris is a chain of fitness clubs which offers a wide range of weight loss programs and sports activities. They have some of the best fitness classes in Pune for activities like Aerobics, Zumba, and Yoga. Apart from this, they also have trained coaches and instructors for sports like Badminton, Judo, Skating, and swimming. They have many branches around town.
Comments