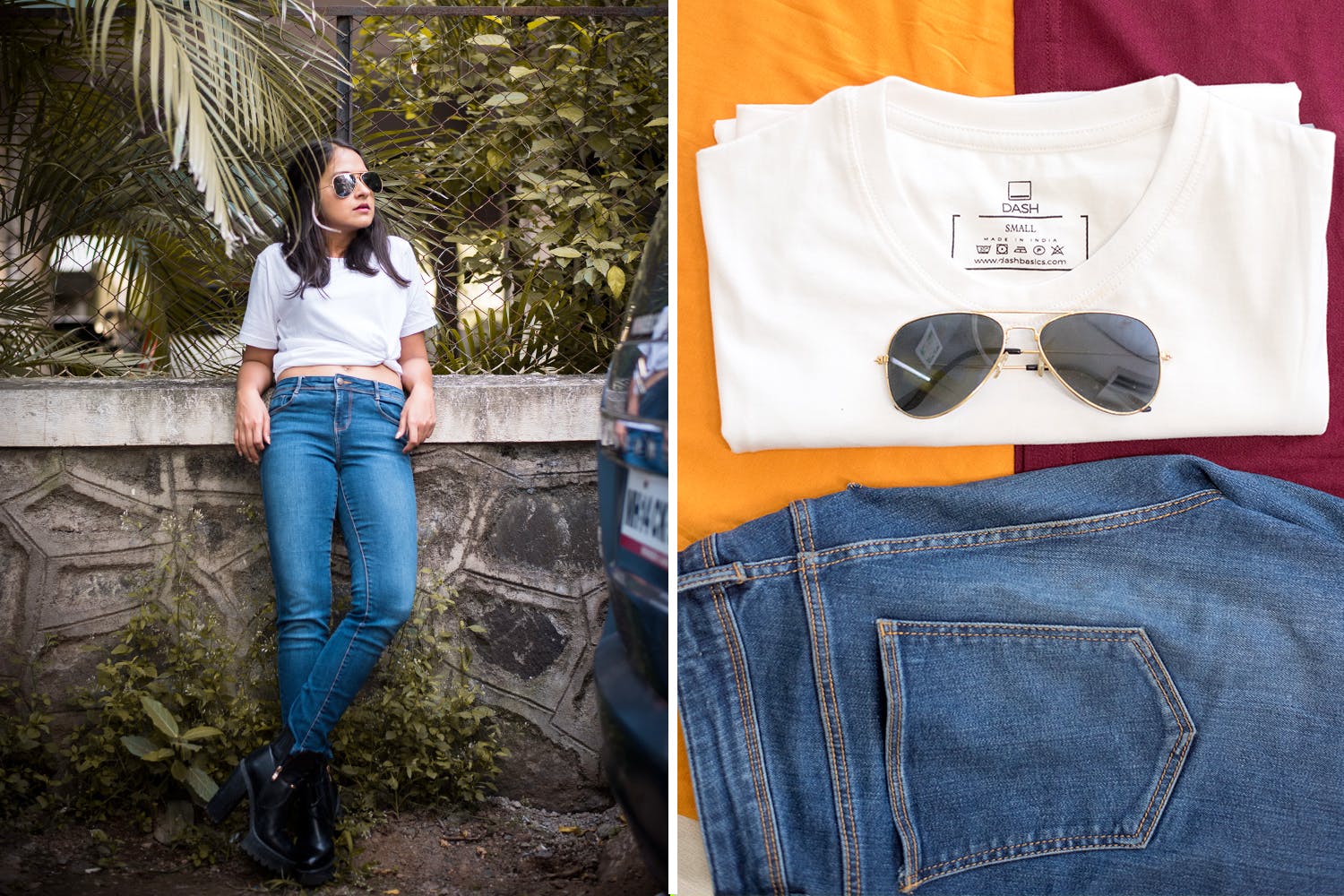 We Love The Tees By This Homegrown Brand & Here Are 5 Ways We Styled Them
Shortcut
Getting tired of constantly-changing fashion trends and the faux-pas that follow? We decided to stick to the basics and found DASH, a Pune brand that sells plain basic tees at just INR 250. Plain, unisex, comfortable and basic, these tees come in18 different solid colours and two neck patterns. Then what? We loaded our carts with five tees and curated different styles of wearing them. Take a look:

The Crop-Top
Let us start with the basic crop-top. When in doubt, simply pair white with denims and you have your outfit ready. We folded and knotted this plain white tee and turned it into a crop top. You can also opt for different kinds of knots and give your tee a perfect cropped look.

The Formal Blouse
Did you know a simple v-neck can be turned into a corporate-chic outfit? We paired a v-neck maroon tee with a body-con pencil skirt and voila! a perfect work-look is created. You can also sport the boss-babe look with elan by pairing the same with palazzos or culottes.

The T-shirt Dress
Got a lunch date and no time to shop? Worry not! Don this oversized plain tee and match it up with a broad waist-belt. Turning a tee into a dress is not only super-easy but is extremely comfortable to wear and looks fabulous. Want to add more style, we suggest pair it up with boots.

The Off-Shoulder Wrap-Top
Don't underestimate the power of a humble plain T-shirt. We slipped the t-shirt on, brought the sleeves to the front and we turned this tee into a gorgeous off-shoulder wrap-top. This works well for when you're on that beach holiday or for a fun day out.

Shirt Or Skirt?
Yes, you read that right. We gave the humble tee an innovative twist and made a skirt out of it. Slip it on with the neck of the t-shit at your waist and tie up the sleeves at the back for a bow-detail. Pair it up with a printed or a chequered shirt and you are good to go. Also, be prepared to be bombarded with loads of curious questions!

Comments