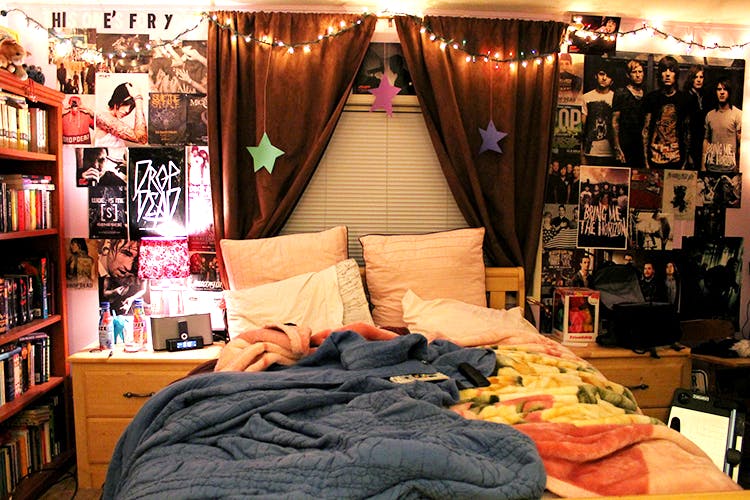 Personalise Your Space: Here's A Guide To Creating A Pinterest-Worthy Room For Under INR 4,000
Shortcut
Shifting to a hostel recently, and feeling lost about how to deck up the room? Fret not! Here's a LBB guide on decorating a PG room, from top to bottom, for under INR 4,000.
Affordable Furniture
Let's start with the basics first. Furniture is a necessity. If not a lot, but a bed, a cupboard and table-chair set is a must. We highly recommend you check out Juna Bazaar. Beds start at INR 1,800, small-sized wardrobes for INR 500 and plastic chairs and tables are priced INR 350 onwards. If Juna Bazaar is not your kind of place, check out our recommendation on five places that sell affordable furniture in Pune.
Handwoven Floor Mats, Coasters & More
The brainchild of Aditi Khot, Des Rangeela has a wide selection of handmade handicrafts that can spruce up your home. Priced at INR 550, their collection of multi-hued handwoven floor mats are inspired from the Mandur Weaving Tradition of West Bengal. For more deets, check out our recommendation here.
Fairy Lights, Earthen Lamps & More
Need a Pinterest-worthy room? Dress up your mirror or decorate the walls with aesthetic lighting decor from MG Road, Kumbharwada and Tapkir Galli. Tapkir Galli in Budhwar Peth is a narrow lane crowded by shops on both sides. Known as the Electric Market of Pune, this place has some great collection of fairy lights either in multiple hues or quintessential warm yellow. Since the shopkeepers sell everything at a wholesale rate, the deal is an absolute steal out here! If you want an artsy touch to your room, check out the collection of earthen lamps at Kumbharwada in Kasba Peth. The traditional handcrafted lamps and lanterns are the best things Kumbharwada. They come in all shapes, designs and sizes and cost between INR 30 and INR 400. If you love unconventional yet basic earthy decor, this is the place to be. For better deals and great stuff, check out this recommendation.
Of Terrariums & Dish Gardens
If you have a big window in your room, we suggest you to put up some cute hanging pots or colorful water cans to pep the ambience. Our recommendation, head to Bohri Ali for all your DIY supplies. The 70-year-old store, AV Garden Tools sells amazing stuff, ranging between INR 10 and INR 10,000. We found the cutest collection of hanging pots, water cans, colourful pebbles for aquarium and terrariums and colourful succulent plants. They also keep soils like sphagnum peat moss for your dish gardens, cactus, exotic stones and fish food. Keeping a small table by your bedside? Why not put up a charming dish garden or a succulent terrarium by Cute Shoots? Starting at INR 1,500 for a small terrarium, Smita's wide variety of designs will spoil you for choices. From a crafty little bonsai park on a dish to a colorful assortment of dwarf plants and rare stones inside a mason jar, Cute Shoots has that perfect something for your work table.
Quirky Posters For The Wall
We're sorted with furniture, mats, terrarium and lights and still look good on our budget. So, it's time to jazz up the mundane white walls with funky posters. Starting at INR 60, we love the collection of posters by Redmyna and Poster Lelo. For more places, check out our recommendation here.
Cute Knick-Knacks For The Room
Located at MG Road in Camp, Rajasthali Art & Crafts is a treasure trove of everything colourful, bright, handmade, embroidered and royal. Ranging between INR 150 and INR 2,000, we're in love with the antiques out here. We found a collection of paperweights featuring musicians of Rajasthan in their colourful traditional attires. If you're thinking of re-decorating your home, check out the beaded wind chimes, the earthen lamps and tall centre-pieces that are perfect to brighten up your living room. Whats more, find jaws-dropping photo frames in intricate emerald work and oil paintings, starting at INR 600.
Comments