The information in this post might be outdated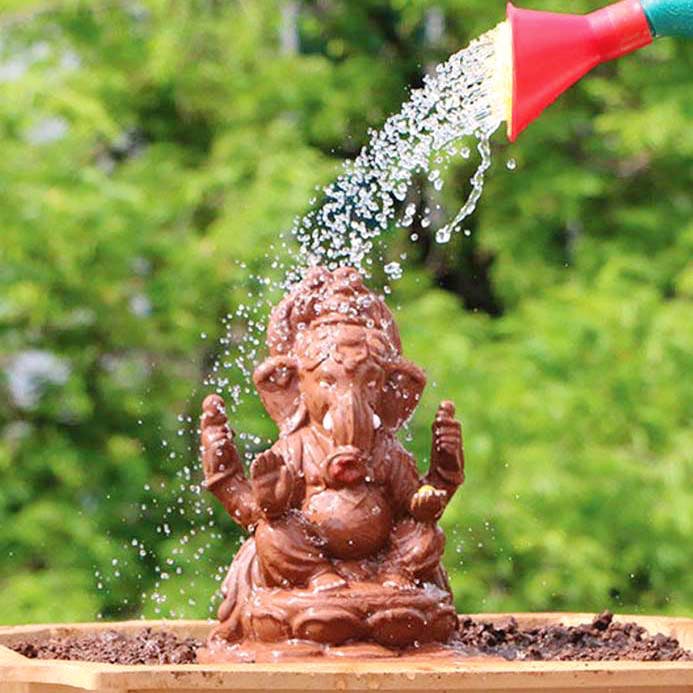 Worship A Green Bappa: Here's Where You Can Get Eco-Friendly Ganesh Idols In Pune
While Ganesh Chaturthi is a joyous occasion, it is sad to see our water bodies get polluted with hazardous PoP idols. This year, LBB pleads everyone to embrace green idols and opt for an environment-friendly celebration. We found several places in Pune that sell eco-friendly Ganesha idols. Here's where to find them.
O My Ganesha
O My Ganesha is a Pune-based online portal that is known to sell eco-friendly Ganesh idols that are handcrafted to excellence. The idols are made of pure shadu mati (fireclay). Hence, the prices might come across as slightly expensive with the basic idol starting at INR 800, however, it is totally worth it due to its designs and environmental-friendly traits.
Desai Bandhu Ambewale
Desai Bandhu Ambewale are well-known alphonso mango and fruit dealers of Pune, who around the time of Ganesh Chaturthi specially handcraft shadu idols. Starting at INR 700, these beautiful idols are made of 100 per cent natural materials that do not cause any harm to the environment. Did you know, they can also replicate Ganesh idols from temples across the country?

Ganesh Kala Kendra
This platform in Sadashiv Peth has idols made using natural clay or fireclay, known as 'shadu chi mati' by local artisans. One of the oldest names in the city for idol-shopping, Ganesh Kala Kendra sells idols starting at INR 230. The colours they use are devoid of any preservatives and chemicals as well.
Morya Arts
Essentially an art studio, Morya Arts is known for its handcrafted Ganesha idols that have beautiful designs and colours. Made with natural ingredients such as turmeric and vermillion, these idols are made of mud, multani mitti, and geru by a skilled sculptor from Pen Taluka. Prices start at INR 300.
eCoexist
Cow dung, natural clay, mud, paper - these are some of the natural materials that eCoexist in Yerawada uses to make their idols. The organisation is very vocal about their agenda to preserve the environment and reduce water pollution during festivals. Starting at INR 200, you can find clay idols that are sustainable and beautiful. Do not forget to check out the decorations that they make using fabrics.
Ugaoo
With an aim to incorporate nature into celebrations, Ugaoo, an online portal is offering tree Ganesha idols. Made of red soil, organic fertiliser, natural colour and seeds. The idol is such that, once it is immersed, it converts into a tree. Yes, you heard it right! From a small 9-inch idol to an 18-inch one, you will find the size as per your preference. Log on to their website or simply WhatsApp them to place your order. What can be a better way to welcome Bappa this year? Call: +91 7090970909
Aruz creations
Whether you want a sitting Ganesha or reclining one, standing one or one with mooshak (mouse)- get vibrant idols from Aruz Creations. From an idol which is as small as 6' to an idol which is in feet, they provide them all starting at INR 601. The best part is that despite being vibrant, they are made of 100 per cent eco-friendly material and shadu mud. To place your order, WhatsApp them and get it delivered to your house. Call: +91 9881037469
Aditi Konapure Kadarkar
Aditi Konapure Kadarkar operates a WhatsApp store which deals in customised Ganesha idols made of natural material such as shadu soil, red soil and natural dyes. The best part is that she can customise designs and make replicas of idols that have caught your fancy. a feet long idol costs you about INR 1300. Call: +91 8208825887
MangalMurti Traders
Often we find our so-called eco-friendly idols containing toxic elements like synthetic colours and non-biodegradable mud. We found an entity which is operating from Pimple Saudagar and is known to deliver 100 per cent organic and environmental-friendly Ganesh idols to your doorstep. Dial-up MangalMurti Traders to get your idol.
Comments