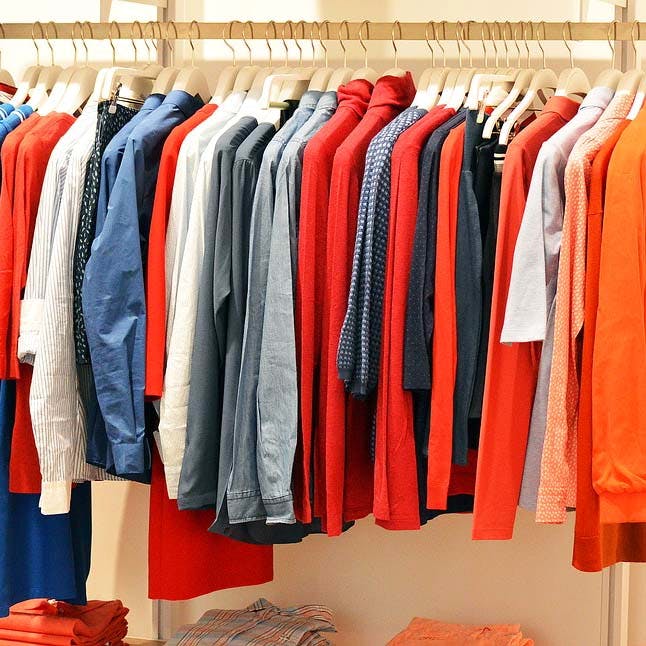 Shop Your Heart Out At These Stores Without Burning A Whole In Your Pocket
Looking at all your favourite brands and wanting almost everything is understandable! Not having enough cash in your pocket to buy those things, is also VERY understandable! Pune is blessed with a lot options where you can get all your favourite brands under the same room for a much cheaper rate. Before you decide to let go of your brand, try checking out these export surplus stores to find exactly what you are looking for at cheaper rates.
Male Square
Men always keep complaining about not having enough options as women when it comes to shopping. Even if they do, they are usually more expensive. Male square brings brands like Allen Solly, Arrow, Van Heusen and Louis Philippe at a very limited rate. Men can find both formal and casual wear. You can find T-shirts starting at INR 800. For shirts, the starting price is INR 2,000 and for jeans the same is around INR 2,500. The store opens all days of the week from 10:00 a.m. to 9:00 p.m.
Just Casuals
It's not necessary to only shop from a mall when you want to look fancy. All the different locations of Just Casuals have something in store for everyone. From men's clothing to women and children, the store keeps a fresh collection of branded clothes that cater to all price ranges. Their collection is full of surplus, excess inventory, cancelled shipments, out of season stocks, out of colour or out of size ratio stocks . You can find brands like Buddies, AWC, Smitten, Pretty Miss Lucy and many other under the same roof. Their starting range for ladies tops is INR 180 and that for kurtis is INR 500. Men can find t-shirts at just INR 400 and shirts at INR 800. You can visit the sore on any day of the week from 11:30 a.m. to 9:30 p.m.
Lifestyle
Even though Lifestyle is a household name, not many know that the prices at which branded products are available here are comparatively cheaper than their actual prices. Catering to everything from men, women and kids wear to accessories, home and beauty products, Lifestyle is another store to look out for. Even their clearance section is worth visiting, it may surprise you. All brands like Adidas, AND, Bossini, Vera Moda are associated with this. You can find a casual shirt at INR 439 only and jeans at just INR 599. Women can find lovely dresses at just INR 699 at the store. The store is open all days of the week.
Brand Factory
Brand Factory isn't a new name for all shopping junkies! Since the beginning the store has been known for its vast collection of stylish clothes at a very reasonable rate. Brand Factory provides almost all kinds of clothing catering to all kinds of customers. They have men's wear, women's wear, sportswear, kids wear, footwear, accessories and much more. Many brands such as Pepe Jeans, W, Wills Lifestyle, Wrangler, Gini & Jony and Allen Solly, are always available on 20 to 70 per cent discount. They are open all days of the week from 11 a.m. to 9 p.m.
Hi fashion
Just like the name suggest, Hi Fashion is all about trendy designs! There are many branches of this store all over the city and most of the shops have the same collection. From denims to tops and dresses, they have a variety of options to choose from. They cater to both male and female customers at a very reasonable rate. You can find bottoms here starting at INR 300 and t-shirts and shirts starting at INR 200. As they stock up on export rejects, some pieces might turn out to be a little out of shape but they mostly repair them before selling. This store is open every day of the week from 10:00 am to 9:30 pm.
Comments