Ikkat, Colour-Block & More: 5 Fabrics For Quirky Shirts For Men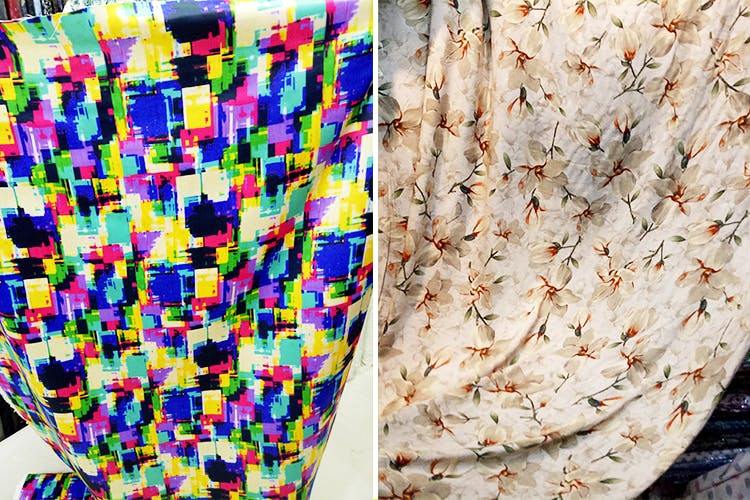 Shortcut
Men, revamp your wardrobe this monsoon with some funky and unconventional fabrics like the ones we scored from Camp.

Colour-Blocked Fabric
For those who are bored of shirts and t-shirts with monotonous stripes and blocks, we found this funky piece of fabric in Super Collection, Camp. Add some colour to all those beach holidays and peaceful vacations with this pure satin fabric for INR 530 per metre.

Digital Print
We found this beautiful piece of digital print fabric at New Kamal Textile in Wonderland on MG Road. The base material is a flowy georgette on which flowers are printed. It is priced at INR 295 per metre and oozes exotic Hawaiian vibes.

Ikkat
Ramgir Textorium, a 40-year-old fabric store in Wonderland on MG Road has a huge variety of modern, edgy and unconventional fabrics. We picked this cotton and viscose mixed Ikkat material. You can get a trendy, short kurta with long sleeves stitched with this fabric. It is priced at INR 285 per metre.

Aztec
Add some spunk to your wardrobe with this colourful Aztec print material that we scored at Kajal Fabrics in Bhopla Chowk. The fabric has a Tribal-Boho look to it. A little costlier than the most fabrics, this piece costs around INR 450 per metre and makes for a cool shirt or a short kurta.

Minimalist Print
Famous Cotton located in Bhopla Chowk in Camp houses a variety of fabrics at affordable rates. If you like all things simple, try this pure cotton fabric that is a simple grey with black lines on it. 2.5 metres of the fabric costs around INR 500.