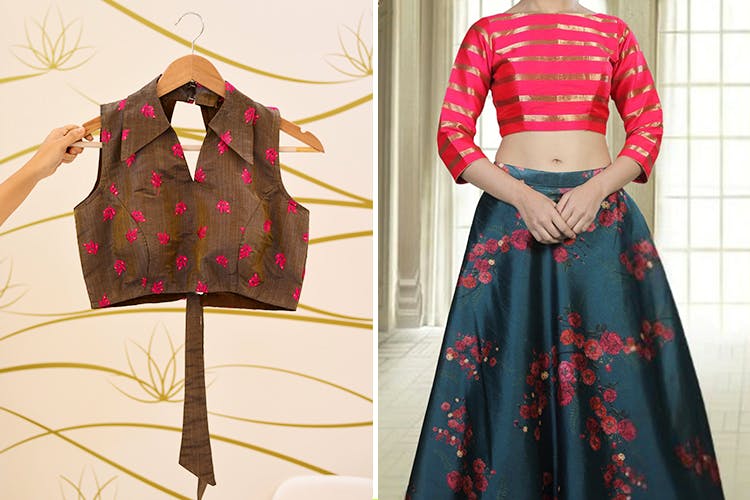 Here's Where You Can Buy Readymade Blouses In Pune
Hearing constant excuses by your tailor for delayed delivery? Making umpteen trips to your boutique to get minute modifications done when you get your blouses stitched? Why fall into the hassles of stitching when you can buy fancy ready-made blouses that come in all shapes, colours and sizes at these five places in Pune.

Vamas Creation
Have a saree that needs a specific type of blouse? Head to this boutique on M.G Road that has a huge collection of different types of readymade blouses that are available in different colours and neck patterns. Be it a plaid simple blouse or a glitzy one, they have it all. The blouses are well-padded and come in different patterns that can be worn on lehengas and sarees.
Choli Matching Centre
Cannot decide the design of your choli or blouse? This old shop in Raviwar Peth comes to your rescue. Grab your pick at just INR 400 and we promise you will never leave the shop with one blouse. With their colour selection and prints, they have established a strong foothold in the fashion industry of Pune. No wonder they boast of a very happy customer base.
S. A. Inamdar
A pioneer and a long-standing player in ready-made-blouse sector in Pune, S.A. Inamdar is a well-known place to shop at when in need of excellent ready-made pieces. Situated in Narayan Peth, this shop is a go-to place for anyone who wants to be spoilt for choice. Right from cotton blouses to silk ones, plain to hand-embroidered ones, they have it in all shapes, cup-sizes and designs. We recommend you pair their fancy blouses with plain sarees and stand out of the crowd. The price range starts at INR 450.

Purva Godbole Couture
Why opt for conventional styles when you can add a tinge of creativity and chicness to your wardrobe. With her modern designs, designer Purva Godbole has gone the extra mile to give an urbane tadka to the good old desi blouse. We simply loved the printed v-neck crop-blouse with a deep back. If you have a long skirt or pastel sarees, these blouses, starting at INR 1500 will perfectly go with them.
Eva Boutique
Eva Boutique is a WhatsApp-based ready-made blouse store of Pune. Just message them on +919960114932 and you will be flooded with tons of designs fitting your style and budget. Starting at INR 450 for basic designs, the price range increases depending on the work on the blouse. We loved their heavy-work blouses that came in bright traditional colours and embellishments. If you are lazy to go out and shop, this place delivers across the city.
Comments