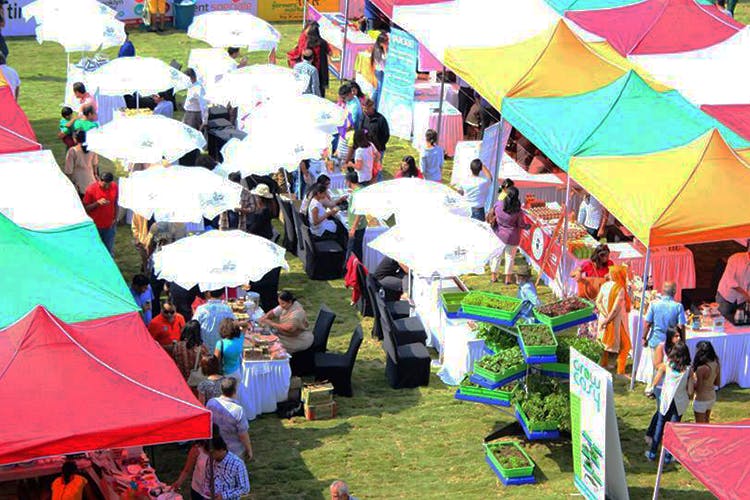 Stock Up On Fresh Farm Produce From These Weekly Farmers' Markets In Pune
You can shop for fresh veggies, fruits, and other items for cheap. There are a few weekly farmer's markets hosted in Pune, mostly organised by individuals, NGOs and political parties. Here's a list of farmer's markets in Pune. Go get your grocerries for cheap!
Viman Nagar Farmer's Market
Hosted every Thursday on the open plot near Coffee Jar in Viman Nagar, this farmer's market has over 20 stalls. These stalls are held by farmers from small villages ahead of Wagholi. At this market, you will find farmers selling various commodities. You can find, vegetables, fruits, pulses, farsans, dried fish, gavthi eggs (which are smaller in size and high in protein) and much more. Every Thursday, this market starts around 4 pm and ends by 10 pm. It is advisable that you carry your own bags.

Yerwada Farmer's Market
Yewada's farmer's market is held near the water pump station, every Wednesday in the evening. This farmer's market also has fresh fruits, vegetables, pure iron utensils, grains and much more. For this market too, it is advisable that you carry your own bags.

Organic Farmer's Market in Koregaon Park
Every third week of the month, at Monalisa Kalagram, at the end of south main road, the organic farmers' market is hosted. This market hosts a number of authentic organic farmers, who keep a limited stock at the market. Since this market happens every third week, you can stock up on onions, tomatoes, garlic, ginger and other produces that don't spoil for weeks.

Baner Farmer's Market
This farmer's market is hosted every Thursday on Baner-Pashan link road. The farmers at this market are known to have different stalls and sections for different vegetables and fruits too. These markets also have merchants who sometimes sell cloth bags made by rural women. They also have stalls that sell homemade papads, kurdais, fryums, spices, different pickles and many other commodities.

Karen Anand's Farmer's Market
Probably one of the city's famous flea markets, Karen Anand is also known to host a very unique and super cool farmers' market. Anand's farmers' markets are known for not just hosting stalls for veggies and fruits, but also for local arts, fabrics, decor pieces and much more. They indeed are a place that you can explore food and other stuff too.

Comments