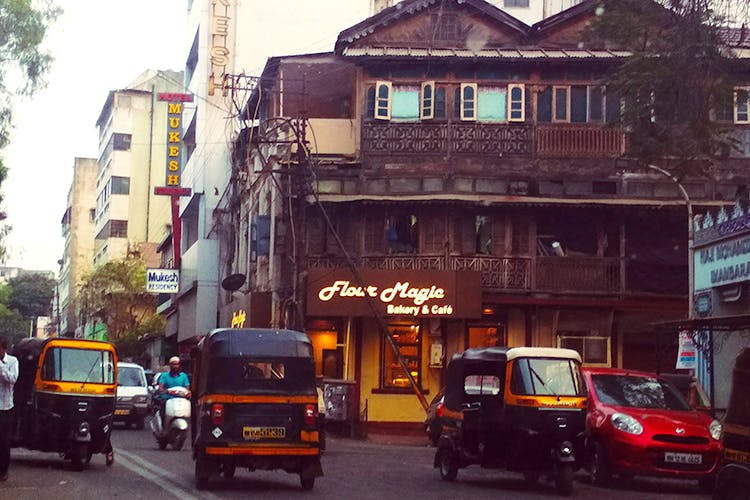 This Quaint Little Bakery In A Beautiful Wada Will Take You Back In Time
Shortcut
While walking down the narrow crowded streets of Camp, we came across Flour Magic, a charming little bakery & cafe, built on the ground floor of what seems to look like a pretty old Puneri wada.
Tell Me More
Located at Synagogue Street, near Aaoji Khaoji, Flour Magic looks like a bakery straight out of a 70's postcard. As a part of an erstwhile, almost dilapidated building, the visual of this place, from a distance, has a fascinating feel of old and new worlds. The interiors, though, have a very different story to tell – hanging lamp shades, glassy counters full of sweet and savoury treats, a red bricked wall with wooden shelves stacked with freshly baked cakes, muffins and biscuits and an outdoor seating for three to four people.
Flour Magic is a treasure trove for gourmet baked goodies – from eggless muffins to melt-in-the-mouth shrewsbury biscuits, breads, pastries, veg pattice, multigrain cookies, wheat toasts, Swiss rolls, mawa cakes and more. We highly recommend you try the nankhatai biscuits made with pure ghee, their decadent rum balls coated with dark chocolate and crispy puffs with spicy minced chicken filling.
So, We're Saying...
If you're visiting Camp soon, make sure you drop by at Flour Magic and get something yummy for yourself.
Comments