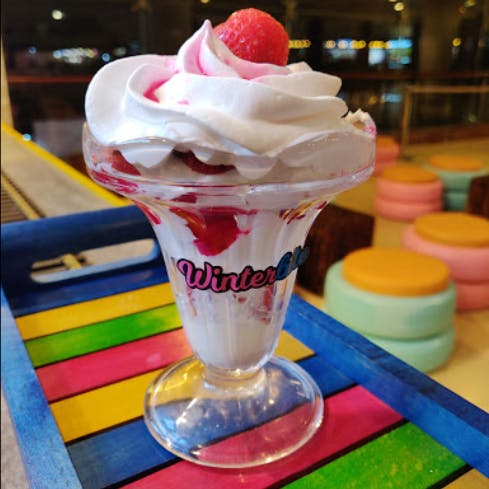 Grab A Bite At These Eateries
All that shopping can make anyone hungry and what is a mall without a good food court and interesting restaurants? At Kumar Pacific Mall in Swargate, we found many options that excited our taste buds. Here is a list of 5 places where you should definitely eat at the Kumar Pacific Mall.
Ketli The Tea Bar
Take a break from all the walking around and stop by at this cute little nook called Ketli. This cafe serves authentic chai and snacks just like our favourite road side tea stalls. They serve their chai in glasses made of mud (kulhad) which adds that traditional touch to it. If you like your chai strong with a lot of ginger and garlic then you are going to love this place. If not, you can ask the servers to make it light! They also serve small snacks such as cookies and sandwiches.
Coffee Jar
If you have reached the mall early in the morning without breakfast, don't worry! Coffee Jar will take care of all your breakfast needs! You can sit and enjoy different types of coffees, iced teas, sandwiches and desserts here. They are known for their different flavoured iced teas such as blueberry, raspberry and more. Their blueberry cheesecake is also pretty famous among regulars! Go and try for yourself!
In Green Pur Veg Restaurant and Bar
If you are looking for a good vegeterian lunch option, then In Green is your choice! This restaurant and bar serves delicious pure veg food for all types of foodies! The ambience of the restaurant is very classy and cozy and it is perfect for a lunch date. They have beautiful outdoor section set up with big cabanas and comfortable sofa seating. Try out some of their specials such as Aloo Nazakat (INR 250), Tomato Tulsi Ka Shorma (INR 135), Masala Mafia Pasta ( INR 345) and many more!

Aufside Sports Bar and Restaurant
Looking to unwind after a long day? Aufside Sports Bar and Restaurant offers the perfect environment! This cozy sports bar has a big screen for all the sports fan to come and watch their favourite matches. Start off with some beer or cocktails and jump into their selection of bar food. The alcohol here is reasonably priced and they have daily offers almost every day! Get hold of your gang and head over to Aufside for a chilled evening.
WinterBite
For something light and sweet, head over to this cute little kiosk that has a toy train outside it called Wintebite. Grab some cool milkshakes and chocolate dessert items here. They have a small an cozy seating area where you can sit down and enjoy a cup of coffee or a glass of some chilled shake. You can also enjoy some savory items like nachos and french fries if you are not looking for something sweet!
Comments