Grub On Wheels: These Top Food Trucks Will Fulfill All Your Cravings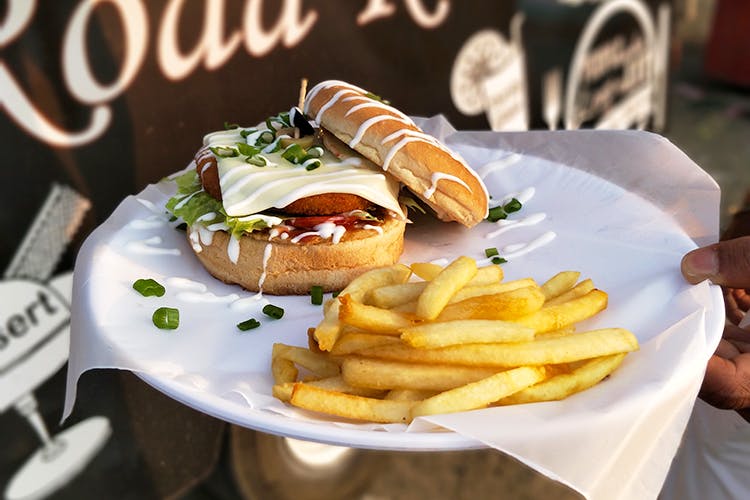 Mid-month woes, hungry and broke? Bookmark this list of food trucks that serve ah-mazing and belly-satisfying food!
Poona Food Truck
Located in the heart of the city, on SB road, the Poona Food Truck is for all broke foodies. Not only does it offer Italian, fast-food and Chinese but it does that at an affordable price of INR 400. Unlike regular food trucks, it offers plenty of seating and a green and tidy ambience. Visit the eatery at night and we bet, you'll love the lighting and aura of this place. For food, you can try their white and red sauce pastas. We highly recommend you to try the 'mumma's pizza', which has a homely feel to it. They also have the combination of pasta and sandwich put together, giving it an unconventional taste. They are open from 11 am to 11 pm from Monday to Saturday while on Sunday it works from 5 am to 11 pm.
L'Dorado
Winning hearts and taste buds on the link road between Aundh and Baner is L'Dorado serving some of the meanest and meatiest fries, starting from INR 120, which is worth every penny. They operate from 12 noon to 11 pm every day. Their disco fries are seasoned French fries topped with home-made sauces, juicy chicken, and cheese. They also serve prawn sukha fries, and pork fries – as well as the usual cheesy fries, peri peri fries, and plain variety. Their nachos too will give you a hard time to decide. Regular (veg) nachos are coated with a home-made cheese sauce and salsa, but you can also enjoy it with herbed chicken, fried seafood (prawns, fish, squid) in masala seasoning, tender shredded pork, or crispy bacon bits. The prices for these nachos start at INR 140.
La Kheer Deli
La Kheer Deli gives a different take to the usual kheer you get anywhere with offbeat flavours you might have never associated with a kheer. It is open only from Friday to Sunday between 8 pm to midnight. Kheer is usually a rich rice pudding, but here, you get much more. We loved 'coupe mocha kheer' (coffee), 'coupe blackcurrant kheer' and 'coupe dry fruit kheer'. We recommend 'the nutelloreo kheer' having Nutella, crushed Oreo and a generous amount of dry fruits to go with it. The perfect chocolatey dessert after a meal. The mocha flavour is a must have for coffee lovers.
Nina Pinta Santamaria
Nina Pinta Santamaria is a food truck, located on Aundh-Baner link road that serves French crêpes with 'an Indian twist'. There are both sweet, and savoury crêpes on their menu. Start with the savoury crêpes – try the 'mushroomay' crêpe, filled with mushroom, spinach, and corn in a basil-tomato sauce. Meat lovers, order their 'mutton ki baat': a spicy mutton kheema and onion filling, and the 'chicken Puneri' crêpe – with a chicken and onion masala filling, in a mildly spicy semi-gravy. Enjoy their 'banoffee crêpe' – 'Argentine dulce de leche' with sliced bananas, cookie crumbles and whipped cream, or 'death by chocolate' – loaded with chocolate crumble in a ganache, smothered with whipped cream. They are open from Tuesday to Sunday from 6 pm to 11 pm.
Rassasy
There is a Tibetan food truck in Wakad where you can enjoy hot momos coming in 30 types. Rassasy - Food Truck is known for its authentic Tibetan food and affordable pricing. Situated on Datta Mandir Road in Wakad, and open all days of the week from 6:30 pm to 11:30 pm, this modern food truck has an elaborate menu for momos, which start at just INR 69 and are steamed, gravy, deep-fried, butter-fried, chilli and tandoor. While momos are a must-try here, you can also enjoy authentic veg as well as non-veg thukpa, kheema pav, rice bowls and chicken bao.
Comments