Go On A Shopping Spree: Osho Chappals, Heels & Jutis For Less Than INR 300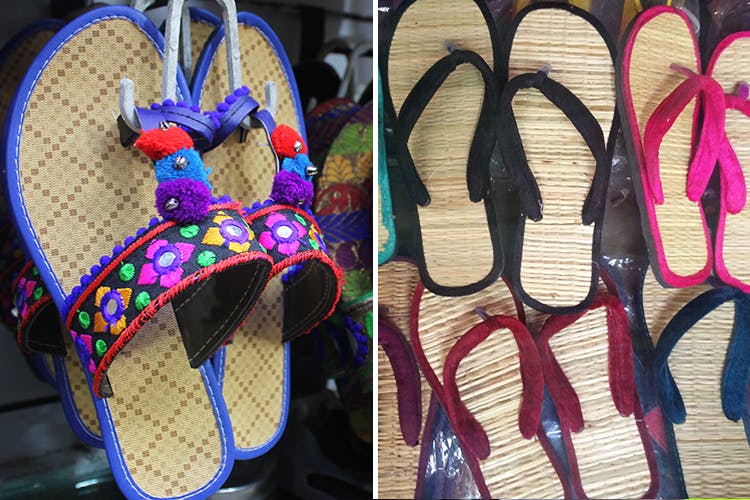 Ten-Second Takeaway
Shoe-addicts, drop everything right now and rush to these five places to get incredible footwear for INR 300 or less!
The Lanes of Koregaon Park
This place is literally synonymous with Osho chappals, kolhapuris and the single strapped slip-ons. Give your shoe rack some colour and variety with vibrant shades of kolhapuri slippers for just INR 200. If you're lover of floral and warli art, check out pairs with minimal yet impressive embroidery for INR 250.
Needless to say, the Osho chappals come with surprisingly cheap price tag. Team up your printed culottes with a basic maroon or a black Osho that will cost you not a penny more than INR 50. The green, orange and purple Oshos come for INR 70. You can grab a pair or two, and still be left with enough cash to buy something else!
Juna Bazaar
A 100-year old marketplace, Juna Bazaar at Kasba Peth is a shoe-lover's paradise. The vendors sit in straight rows and sell branded shoes of all kinds. And, we are talking Nikes, Pumas, Red Tapes, CatWalks and Adidas. We cannot vouch for the originality of the stuff, but take it from us, the deal is a steal out here.
While a good pair of neon running shoes comes for INR 250, a pair of black or brown leather Oxford or Derby shoes for men will cost you INR 300. If you're lucky, get hold of those Mochi sandals for just INR 150!
#LBBTip: Visit Juna Bazaar on a Sunday and experience Pune's street shopping in its truest form!
Fergusson College Road
Monsoon is here, which means, the saga of bad-shoe days are upon us. Ladies, rush to FC Road and get yourself a comfortable pair of footwear for under INR 300. The white-sole platform heels in fluorescent candy colours are the showstoppers this season. Grab a pair for INR 200 and thank us later!
If you love pumps, go for a chic nude or multi-coloured floral pair for INR 300. We loved the collection of rubber chappals at FC Road. They are uber cool, easy-to-wear and come for just INR 100!
All the corporate junkies out there! FC Road is a treasure trove of stilettos and kitten heels. The pointed-toe collection is love! The prices vary depending on what you buy. A basic pair of matte black heels will cost you somewhere between INR 270 and INR 300.
Fashion Street
Located opposite the VSNL building at MG Road, the Fashion Street stretch boasts of teeny tiny shoe establishments at every possible nook-and-corner. We highly recommend you to check out the jutis and mojaris. They are traditional. They are classy. And, they are absolutely in-vogue. The colours are bright and funky. From hot pinks to yolk yellows to electric blues, you name it and you've got it!
Jutis with heavy embroidery work will cost you between INR 250 and INR 300. If you love simple sober stuff, opt for the basic velvety ones. Those come within the INR 300 budget range and will last longer. Also, did we mention the canvas sneakers? Check them out! They are bold and young and come for just INR 250 a pair!
Deccan Gymkhana
Fan of indoor shopping, but on a shoe-string budget? Rush to Deccan Gymkhana and find awesomeness all across the streets. There are tons of local shoe stores that stand right next to each other in a long row.
If you love a little bit of bling and gold and sparkle, these shops will be a blessing in disguise. If you're up for a wedding, pick up a golden sandal with block heels for INR 300 or two-strapped silver sandals for INR 250.
Disclaimer: The collection and prices at each of these stores are quite similar.