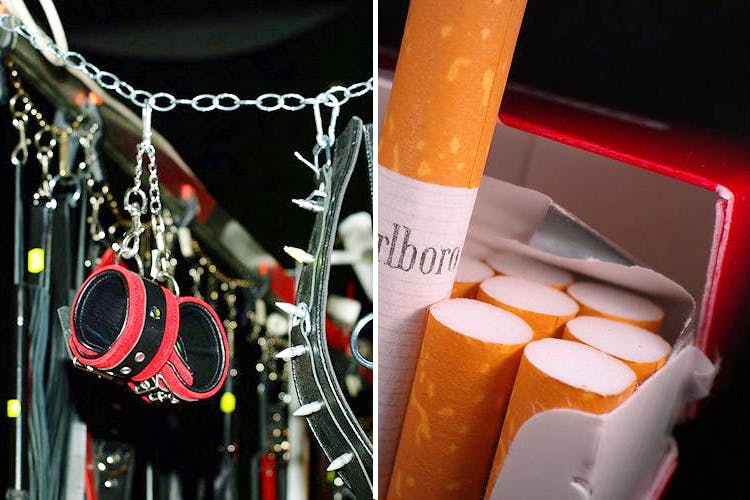 Bookmark This (Secretly): 5 Places Your Parents Don't Want You To Know About
Shortcut
What are rules if they can't be broken? Let's be honest, life is too short to not make a couple of wild memories. Of course, they are 100% legal but don't think you'll ever get your parents' approval for the same. So, here's letting out some (harmless) secrets for you to bookmark when in need. Check it out!
Sex Toys From This Place
Gatwick Boutique at Camp is known for its vast collection of hot, racy lingerie. What you didn't know is this place also sells sex toys, ranging from edible lingerie to massagers and dildos.
Get Hookah Post Midnight
Blue Shack at Dhayarkar Colony in Mundhwa is the ultimate post-party hangout joint. The place has affordable drinks and bar bites and serves hookah till 2.00 am. What else do you want?

Get Condoms, Smoking Paper & Cigarettes Delivered
Whether it's midnight or 4.00 am, Jugaad.in is available round-the-clock to deliver condoms, cigarettes and food to your doorstep. The delivery areas include Kothrud, Kalyani Nagar, KP and Magarpatta.
No-Judgement Hotels For Unmarried Couples
This has been tried-and-tested and we can absolutely vouch for these names. If you're looking for luxury, privacy and willing to shed some money, The O Hotel at KP is a great option. Their O Club Room is gorgeous and has a in-room soak tub which makes it all the more romantic.
For broke couples, check out Cozy Nest Service Apartments at Amethyst Baner. The place has spacious, well-appointed rooms that start at INR 1,300 per night. The staff is friendly and makes sure you get your privacy throughout.
Comments