The information in this post might be outdated
Large Groups, This Alibaug Villa With A Private Pool Is Stunning & Will Cost INR 1,600 Per Head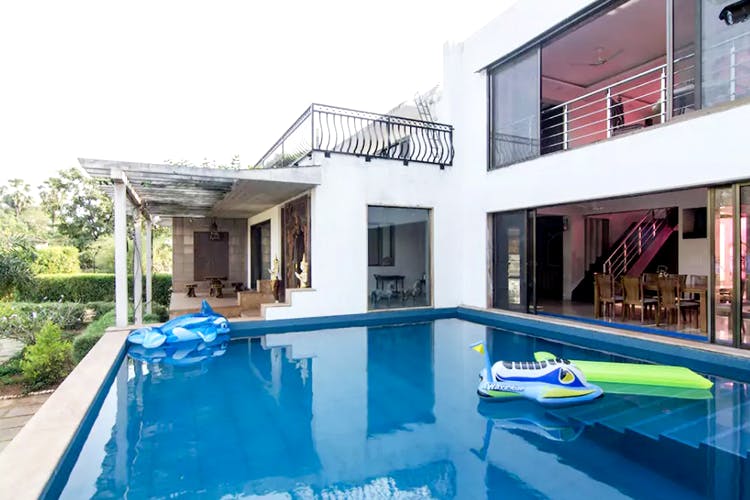 What Is It?
Planning a getaway with your fam or friends to Alibaug? Fun Pool Villa is the perfect place to stay at!
How Do I Get There?
The villa is situated at Kihim Beach, which is about three-and-a-half hour drive from Pune, via Bangalore-Mumbai Highway. Click here, for a more detailed map.
What Did I Like About The Place?
Fun Pool Villa near Kihim Beach has all the amenities you'd want for a luxurious stay at Alibaug. At INR 26,930 per night and 16 or more quests at a time, you'd consider it as a good deal. A swimming pool almost inside the house, a garden, small cycling track a kitchen, a pool table, a trampoline,a veggie patch, a cable TV,heating, air conditioners, shampoos and ofcourse WiFi and other essentials, make it a home away from home. Or even better. With 4 bedrooms, 8 beds and 5 baths, it defines luxury. Guests have access to 4 rooms, 2 on the ground floor and 2 at the garden level. This place is pet-friendly too! You get to enjoy Alibaug sunsets with your pets. In case you're thinking of accommodating more than 16 people, it is important for you to know that you will be charged INR 1600/ night after 10 guests. Their weekend price is at INR 27,500/night. But don't worry, they also provide monthy and weekly discounts at 35% and 21%. Surrounded by a lot of eateries around, the favourite of all being a pizza place,Italian Crust, you surely get to enjoy a good stay with even better food. This place also provides a caretaker and a local cook can be found at INR 1200. The check- in time is 12 noon and you're expected to check out by 10am. Book this villa 
here.
So, We're Saying...
Don't hesitate to make plans for Alibaug. Fun Pool Villa is here to make a trip worthy.
Comments