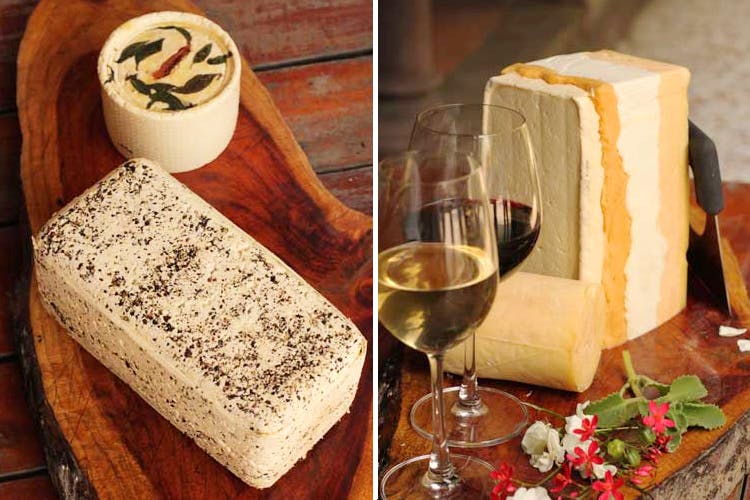 Of Gourmet Delights: This Farm In Pune Sells Blue Cheese, Black Rice, White Coffee & More
Shortcut
Are you a cheese lover? A food connoisseur? Or just a person who harbors the love for healthy and quality dining? ABC farms is the place you should be in if 'yes' is your answer.
Tell Me More
ABC Farms produce a wide variety of dairy products and other farm products. Few caught our fancy. They have 70 variety of cheese. Hard ones include Gouda, Yak Milk Cheese, Marble Cheese, Cheddar, Colby Parmesan, Emmental, Gruyere and many more.  Natural soft cheese also has a huge variety like the Mascarpone, Blue Cheese, Bocconcini, Cream cheese, Quark and much more to choose from.
ABC Farms also produce a wide variety of organic farm products like brown rice, polished rice, black rice etc. Two varieties of black rice are grown in ABC farms – Indonesian and Thai. Black Rice is a rare and nutritious grain offering the many health benefits found in blueberries, grapes and acai. This grain is low in fat, rich in fiber, full of protein and antioxidants, with essential vitamins and minerals. They are also pretty famous for their white coffee which is otherwise very rare in India.
You will also find other items like different varieties of Vinegar, fondue sets, cheese dips to name just a few.
Anything Else?
You can also take a tour at ABC Farms that includes factory visit, tasting of 10 types of cheese, a pizza wedge, 4 types of milk products.
Price: INR 1,000 per person
Make your booking soon by calling the office at 020 26880555
You may also write in at abcfarms@gmail.com to book a tour.
So, We're Saying...
This weekend go shopping to the most fascinating market your city has, custom-made according to your preferences.
{Calling all brides (and their tribes!) – From clothes to gifting, get all your wedding inspiration here. #HitchedWithLBB}
Comments