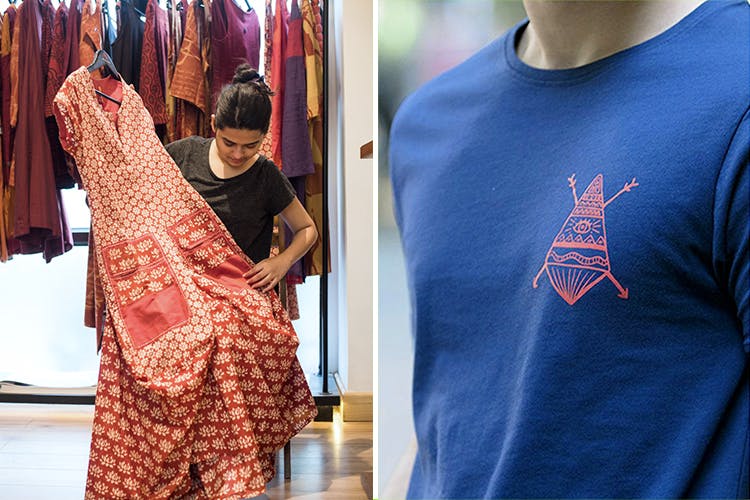 Wear Organic From 5 Homegrown Fashion Brands
This year, let us take a pledge to stick to green fashion and reduce carbon print. We have found five homegrown green fashion brands that will not only provide comfort but are also gorgeous. Chic yet environmentally friendly, the designs of these sustainable fashion brands are surely big this season. Read on:
Upasana
What started as a small business in Auroville in 1997 has grown into a brand that's been showcased at fashion weeks. Upasana after years of practising conscious fashion has opened its first store in Koregaon Park. Located inside Sunderban Resort & Spa in KP's lane 1, their idea was to take a luxury like fashion and transform it into a sustainable business where people involved grow along with the business. And, their idea has worked.

Working with farmers, weavers Upasana aims to empower not just women but village communities in general. They reuse waste materials, cut gorgeous silhouettes out of khadi and use hand-woven materials and hand-embroidery. For the label, it's all about creating sustainable clothing. They have Banarasi silk stoles with silver motifs and their asymmetrical dresses from their origami collection are worth buying to add a unique piece to your wardrobe. Their upcycled dresses will make you realise there's a lot you too can do with your old garments. You can also shop for bags and cotton pouches in all sizes big and small.

Adrish
Adrish at Lane Number 5, beside Chafa Cafe and Studio, sits almost unnoticed amidst the chaos and crowd at Koregaon Park. Look carefully, and you'll notice the significance of the store. Adrish is nothing like any other concept store we've been before. In fact, it is the only establishment in the city that advocates a zero-waste, organic, plastic-free policy through its varied products. You will find amazing handspun khadi kurtis that will add simplicity and class to your wardrobe. Pair them up with eco-friendly zero-waste bags and clutches.
Kappad.Co
Sharayu Waghmare started Kappad, a one-of-a-kind portal of readymade organic clothed that will change your outlook towards fashion.
Sustainable, green, organic, handcrafted and organic- the vegan clothes from Kappad combine all the mentioned elements. We found their collection that starts at INR 2,000, chic and stylish. If comfort tops your list while buying clothes, we suggest you check out their elegant stripped dresses and cape one shoulder tops.
Ek Dori
One of our favourite new finds, Ek Dori is a homegrown fashion label started by Abhilasha Mehta. From linen hand-embroidered saris to up-cycled dresses and hair accessories– Ek Dori aims to be as zero-waste as possible, and will often re-purpose scraps of clothing into fashionable statement pieces. Each piece is one-of-a-kind in its own right, and almost every item of clothing has vintage materials incorporated into it.

Outliers Clothing Co.
Outliers Clothing Co. is an upcoming sustainable and ethical organic clothing company, founded by Rohit Oswal and Tejas Shah. A homegrown Pune label, their t-shirts are made from 100% non-GMO certified organic cotton- dyed without the use of bleach or chemicals. Available in solid, polo, slubs (in slub material, the threads are thicker in places– giving it more texture), graphics printed and pocket-style, these minimalist tees can be worn as-is, layered to build a 'look'. We love that they're eco-friendly, and also super-soft on the skin. Ideal for Indian summers, they're priced between INR 700 – 1300.

Comments