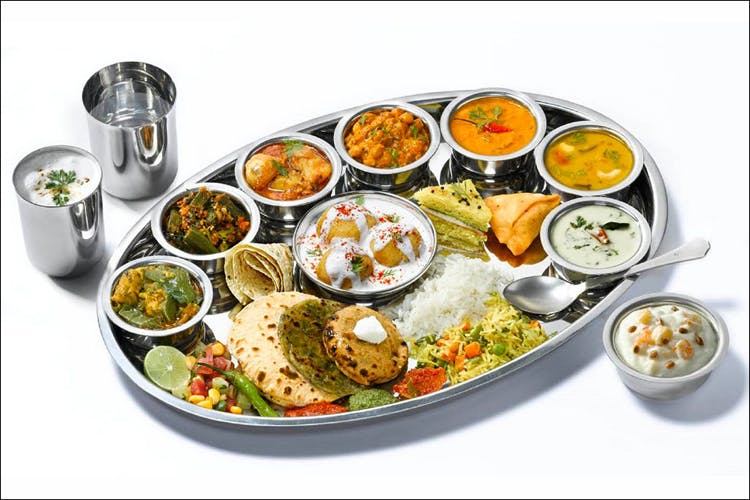 Of Undhiyo, Dhokla And Khaman: Our Picks Of The Best Gujju Thalis In Pune
There's nothing more fulfilling than a big thali, which is a well-balanced meal including your gravies, breads, rice, fried snack and dessert. If you're one who loves to try different thalis in the city, hop around Pune and gorge on these mighty Gujarati thalis.
Sukanta
Get a load of their off-beat and seasonal rabadis that are made using fresh fruits. Their Gujarati thali has the signature kadhi, khichdi, farsaan, meethi puri and more. They also serve a number of sabji such as aaloo sambhariya, navratna kurma, mutter muthiya and the signature undhiyo during winters. The Gujarati thali is priced at INR 570.
Shri Murlidhar Veg Thali
Located in Narayan Peth, Shri Murlidhar Thali offers wholesome Gujarati meals in different sizes. You can select a full thali for INR 130, which is unlimited or you can opt for a mini thali for INR 110 that's limited. If you want something more simple , this restaurant also serves khichdi kadhi for INR 80 per person. If you are a sucker for moong dal halwa, you can dig into it for INR 50.
Rajdhani Thali Restaurant
Known for their great service and taste of food, Rajdhani Thali Restaurant serves authentic Gujarati thalis for INR 410. Their thali is predominantly a mixture of Marwari-Gujarati cuisine and is supremely delicious. Head here during summers for the special mango festival, where you can sample sweet and savoury mango dishes.
Panchavati Gaurav
Known for their fulfilling meals and brilliant taste, Panchavati Gaurav is also another favourite for Gujarati thali. Offering a different menu every day, like other dinners, this restaurant also serves a complete and soul satisfying meals to its patrons. Apart from the general dishes, Panchavati Gaurav also serves refreshments like chass, which you cannot miss.

Sahare Dining Hall
Located in Camp near Ritz, Sahare Dining Hall serves unlimited thalis. This means endless servings of khaman, dhokla, jalebi, basundi and everything nice. Sahare is also known for their prompt service along with their good taste. This place also has two options: full thali (INR 520) and half thali (INR 320).They also have an a la carte menu as well that has limited yet interesting dishes.
Ask avirat a question