The information in this post might be outdated
Fly High In The Sky With Paragliding At These Spots Around Pune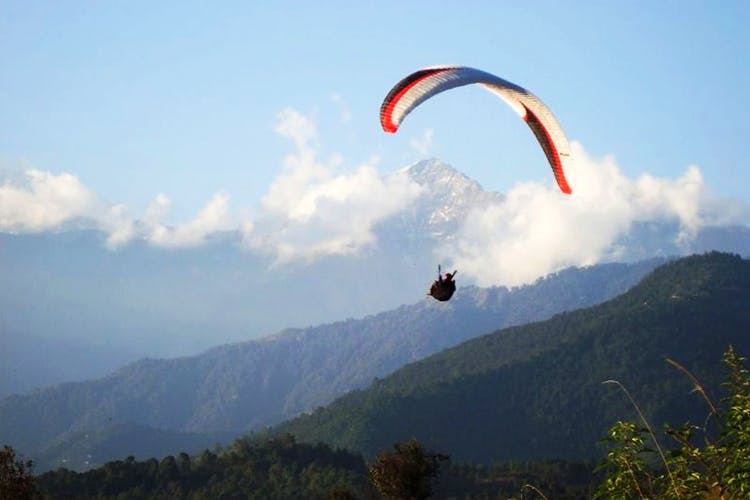 Looking for some adventure? Get high in the sky with these adrenaline-boosting adventure activities around Pune.
Wings and Flights
Wings and Flights is an institute, focused on paragliding, paramotoring, parasailing, trike flying, paragliding winching, etc. Wings and Flights operate state-of-the art equipment, with highly qualified, award-winning pilots on staff. What we're most interested in, is their engine-powered paragliding! You don't have to be a qualified pilot to take a powered paragliding joyride. All you need to do is strap into the 360° open seat (with the pilot seated behind you), sit back, relax and enjoy the view! You'll be flying at a height of 1000 feet for about 5 – 10 minutes (depending on the weather) and this will cost you around INR 2500+ taxes.

Longer duration flights (20 – 30 minutes at 1000 – 12000 feet) are available, at a higher cost. Make some thrilling memories and take photos as you enjoy a bird's eye view of scenic Pune. Weather permitting, the pilot may even let you steer the craft for a minute or two! We highly recommend booking your flight in advance, as they have limited slots.
Restrictions: Age 5 years – 70 years; weighing 20kg – 80kg. Passengers should be medically & physically fit.
They also offer training courses, if you have the time and money to dedicate yourself to learning paragliding.
Indus Paragliding
If you'd rather a more natural paragliding experience, go for a tandem joyride with Indus Paragliding. Based in Kamshet (60km away from Pune), Indus offers both paragliding courses, as well as tandem rides. There isn't any engine involved here, just the power of wind energy! For a 10-minute tandem joyride, it'll cost you INR 2500+ on weekdays and INR 3000+ on weekends and public holidays.
You can double the duration at double the cost. Located in Kamshet, they have two different sites for paragliding, and will inform you of which site to visit according to the weather. We strongly advise you make a booking with them at least 4-5 days in advance, to avoid disappointment.
Photo and video coverage of your joyride can be arranged at an extra cost of INR 1000+.
Restrictions: Age 5 years minimum, weighing 15 – 16kg or maximum 100 – 110kg, and medically fit.
Nirvana Adventures
If you'd rather make a weekend of it with your squad, check out Fly Nirvana – also based in Kamshet, close to Lonavala. They have a cosy lake-front guest house called Native Place where you can book a room/dorm/tent package if you plan to overnight it. You will need your own mode of transport to get here, but the staff at Nirvana can help you arrange for that as well. For paragliding, you must book with them beforehand, since it solely depends on the wind and weather conditions. Once your booking is confirmed, they will provide you with detailed instructions on how to get there, and what to carry. Additional HD video and photo coverage of the flight can be arranged if you request them beforehand.
On weekdays, a 5-10 minute flight will cost you INR 2,500+ and INR 3,000 on public holidays and weekends (additional GST will apply).
You can even customise a longer flight time package with them at a higher price. We think this would make for an ideal weekend getaway, so get booking!
Flying time depends on the climate and weather conditions, so it's best to contact them in advance for bookings.
Shrivardhan Beach
There are a number of places around Shrivardhan Beach where you can go for paragliding. The beach is located around five hours away from Pune and is one of the favourite spots of Punekars for a weekend getaway. As mentioned earlier, they have a number of sports and one amongst them is paragliding for which the prices start at INR 1,500 for 20 minutes in sky.
Paragliding Mantra
Heading to Kamshet? Then do go to Paragliding Mantra to quench your thirst for adventure sports. The organisation offers a number of adventure sports as well as training to become an instructor in the sport. If you are planning to go just of the leisure bit of it, the prices for that starts at INR 2500 (on weekdays) and 3000 on weekends for a simple 10 to 15 minutes ride.
One thing that you must note is that flying season is from October end until April/May end, depending on weather conditions. Please check flight schedules and availability with these companies before you decide to go.
Comments