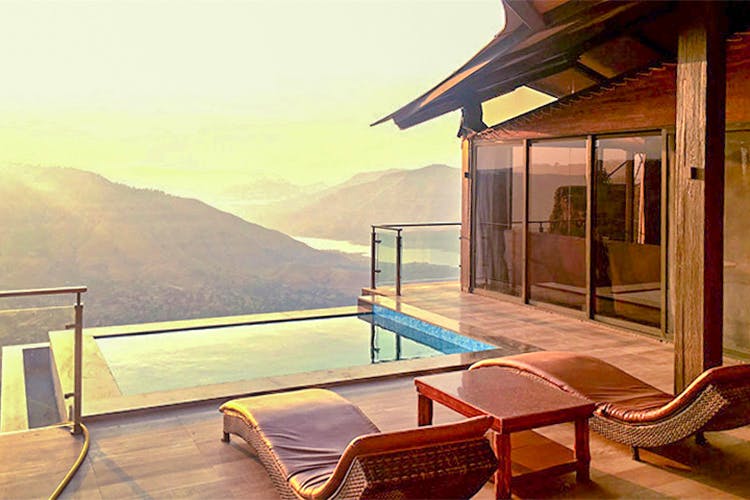 Would You Dare To Stay At This Panchgani Resort That Has Tents By The Cliff?
What Is It?
Planning a weekend getaway with your partner or have a family vacation lined up? Then, there's no place we'd recommend more than the beautiful Ravine Hotel at Sydney Point on the Wai-Panchgani Road.
How Do I Get There?
To get to Panchgani, you can either hire an outstation cab or rent a car. The way is via NH48 in Kudale Baug and should take close to two-and-a-half hours from Pune. Albeit, on long weekends it may take a little longer due to the traffic.
What Is Unique About It?
The 3-star hotel is spread atop the lush green hills of Panchgani, 4,500 feet above sea level, and looks nothing short of ravishing. It's a huge property with 13 different kinds of accommodation – from beautiful wooden cottage rooms to luxury tents by the cliff and stunning valley-facing rooms. If you ask us, our recommendation will be to book the Emperor's Tent with an infinity pool that overlooks the vast expanse of the Krishna Valley and the meandering water bodies below.
Besides these lavishing rooms, you can always spend some quiet time at Ravine's Serenity Spa that offers a wide range of exotic massages and therapies.
On any other day we would've recommended the local food at Panchgani for budget-friendly grubs, but we cannot help but mention about their in-house restaurant, The Melting Pot. It serves multiple cuisines, so there's plenty to choose from. Also, we don't think you'd want to step out of the resort at all, so gorge all you can right here.
Anything Else?
Prices completely vary on the time you visit and the kind of room you book, but on an average, a per night stay starts at INR 3,550. Check out their website for more details. As for us, we definitely put an 'approved and awesome' stamp on this place and are planning our next visit there soon.
Comments