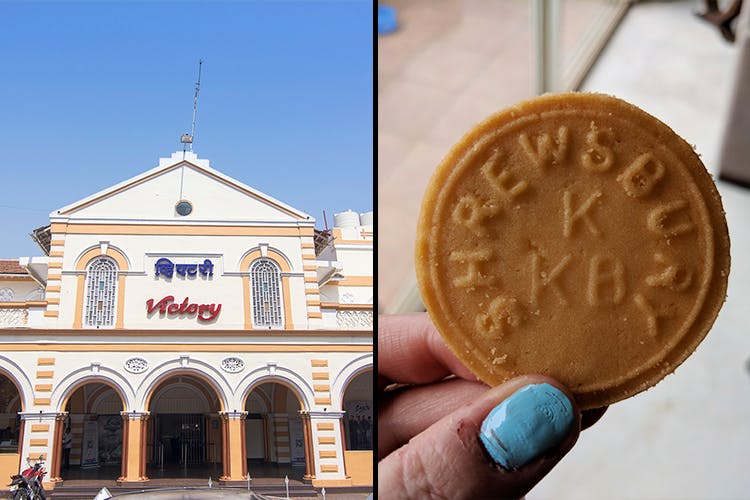 Ditch The Touristy Stuff: How To Live 48 Hours In Pune Like A Local
Ten-Second Takeaway
If you've got 48 hours to explore Pune like a true Puneri local, here's what you should do.
Grab Breakfast On-The-Go from Bakeries in Camp
Pune, particularly the Camp area, is full of cute little bakeries – most that date back to the colonial era. Grab a biscuit or mawa cake or chicken puff from any of our favourite old-school bakeries
here.
Kayani may be good, but our ultimate favourite is Khodayar Bakery near Golibar Maidan (read more on them
here)
that bakes the most divinely buttery batasis and Shrewsbury biscuits on pre-order.
Go Shopping at Clover Center
Clover Center in Camp is a cornucopia for affordable ethnic fashion, but they also have plenty of other interesting shops (and a secret liquor shop) which you can read about
here.
Enjoy Sizzlers for Lunch at The Place
'The Place' is Pune's oldest sizzler joint – and if you've never eaten a sizzler in your life, this is exactly where you should try your first one. Read our recommendation,
here.
Watch A Movie At Victory Theatre
Located on East Street, Victory Theatre is one of Pune's oldest remaining single-screen cinemas – and a charming place to enjoy a movie. Watch from the balcony seats, or sit in the stalls – just like the old days!
Hit the Boutiques in Koregaon Park
Koregaon Park is popular for a lot of reasons, one of them being its thriving fashion scene and numerous boutiques. Here's our recommendation for shopping
these
boutiques on a budget.
#LBBTip:
 If you're feeling picky, Lane 6 in Koregaon Park has some amazing street food we think you should check out,
here.
Feast at an Iconic Chinese Eatery
Just like Mumbai and other metro cities, Pune has its own community of Chinese eateries that have an almost cult-like following. Enjoy authentic Chinese and Indo-Chinese cuisine at any of these restaurants, via our guide to dining at them here.
Put Your Bargaining Skills to the Test at Juna Bazaar
Juna Bazaar may only happen on Wednesdays and Sundays, but it's worth a visit at least once. Test your bargaining skills as you explore the makeshift stalls, which sell everything from antique jewellery boxes, to household tools, vintage records, and more. Read our guide to shopping at Juna Bazaar,
here.
Go Out Drinking & Sample Our Local Craft Beer
Comments