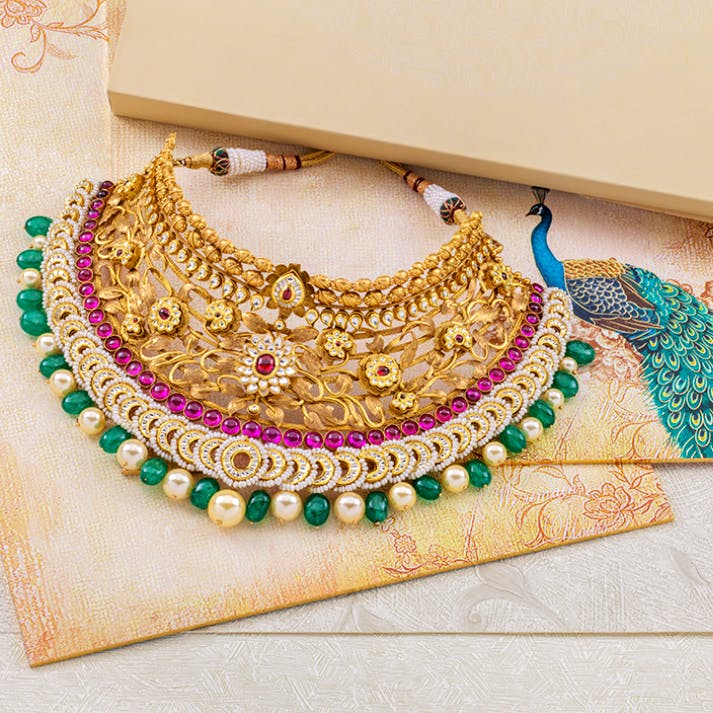 Go Bling With Jewellery From These Stores On Laxmi Road
One of Pune's oldest streets, Laxmi Road, gets its name due to the numerous jewellery stores lined up on the street. For generations altogether, various stores from this street have sufficed the gold, diamond, silver and pearl needs of the city. Since the choices can be a little baffling, we've got a list of the best jewellery stores where you can shop from. Whether you need jewellery for everyday use or any special day, you can get good quality and certified pieces from these stores.
PNG Gadgil
For obvious reasons, PNG Gadgil has been a favourite amongst generations of Punekars. Their store on Laxmi Road, looks like an old Maharashtrian wada (mansion). The store does some really beautiful and rare designs in traditional Maharashtrian jewellery made from gold, pearls, diamonds and precious stones. Along with traditional designs, the store also has a number of contemporary designs as well.

Rathod Jewellers
If you are a sucker for Kundan stones, Meenakari work and all such Rajasthan-inspired jewellery, you have got to check out Rathod Jewellers. The store is majorly known for their stones and semi-precious stones jewellery. You will find a number of splendid bridal sets. Along with elaborate jewellery, you can also find simple everyday use jewellery as well.

Tanishq Jewellery
A brand that has made jewellery for a number of Bollywood movies, Tanishq Jewellery is a pan-Indian favourite jewellery maker. You will find a number of simple, elegant and eye-catching pieces over here. From earrings to toe rings, you will find all kinds of pieces over here. However, the store does not do customised jewellery but offers basic customisation.

Neelkanth Jewellers
A homegrown brand, Neelkanth Jewellers is another trusted gold jewellery brand among Punekars. They make a number of traditional jewellery in Maharashtrian, Marwari, South-Indian and other styles. You will find elaborate as well as simple designs. The also have numerous schemes that would help you in investing in gold.

Ranka Jewellers
If you love collecting silver items, Ranka Jewellers is the brand for you. The brand is known for making a number of items in silver and gold. You could find ornaments for idols of gods made in silver and gold. They also have items such as plates, jugs, tamhans (aarti thali), pelas (the small water goblet in Indian style. Along with objects,they also have a number of beautiful jewellery pieces in their collection.

Ashtekar Jewellers (C.M.)
Known for their elegant and simple designs, Ashtekar Jewellers is another of the city's favourite jewellery designers. You will see a lot of influence of Maharashtrian designs on their various collections. They have a number of bridal jewellery pieces and also everyday use jewellery. They make pieces in gold, silver, diamonds, pearls and other precious elements.

Comments