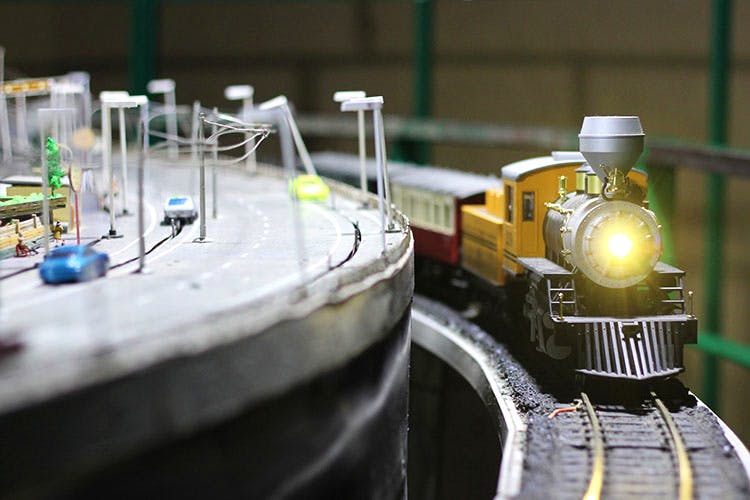 Check Out India's Only Miniature City At This 20-Year-Old Museum In Kothrud
Shortcut
Pocket-sized steam engines, flyovers, swimming pool, lamp posts and even a tiny circus! The 26′ x 26′ hall inside the factory of Soudamini Instruments at Kothrud – Joshi's Museum of Miniature Railways, boasting of its minute yet intriguing details, is India's only miniature city that has found itself a mention in the Limca Book of Records in 2004.
Tracing The History...
Started in the year 1998, the museum is a creation of B.S Joshi, who as a child, collected model trains and made miniature figurines out of cardboard. Joshi was a man of perfection, with an obsession of getting the smallest of details right! During his childhood, he built small layouts of fortresses and incorporated a lot of movements in his designs – moving cars on the road, a fire engine that would actually put out a fire and much more. Everything would be controlled by mere strings!
In the early 1980's, Joshi started to work on his masterpiece. The layout was first displayed in public at the Gokhale Hall in 1982. Four years later, it was displayed again at Dastur High School. However, the process of requiring permissions for the locations was quite arduous and frustrating. Joshi, finally decided on creating a permanent museum of miniature railway, a first-of-its-kind in India.
In 1991, he built the hall inside the factory of Soudamini Instruments. Ofcourse, this time he had to put in extra efforts to revamp the existing layout to make it more large-scaled and awe-striking. Seven years of extreme hard work later, Joshi's Museum Of Miniature Railways was opened on April 1, 1998.
Currently, run by his son, Dr. Ravi Joshi, the museum has nearly 1,000 wires coming out of a control panel. There are working models of trains with a length 10 to 15 inches, There are 65 signals, fences, lamp posts, flyovers that have been handcrafted, using chemical etching techniques.
What's more? The museum distributes and manufactures models for international companies like Fleischmann, Rocco and Hornby Railways. However, the turning point was in 2007, when the museum manufactured a scale model of Switzerland's popular Jungfrau Railway, and received an order of 2,000 pieces by the management.
It's been close to two decades, and there's no looking back for Joshi's museum. With a footfall of nearly 30,000 visitors every year, an hour at this place is an experience of a lifetime!
The Miniature City!
The layout is a well-detailed city controlled by state-of-the-art digital system with light and sound effects. There are several kinds of trains including the steam engine, diesel engine, high-speed intercity express, underground metro, rope railway, funicular railway and Wuppertal hanging railway.
The design comprises 65 signals, 26 points, six platforms, fences, lamp posts, flyovers and a two-lane highway with moving cars. There is also a tiny Ghat section with a reversing station, especially for the steam trains. The station yard has announcement systems, main lines, goods loading facilities, hump shunting and a crane.
This city has tall buildings with lights and a sophisticated business center with flashy hoardings! There are pretty little houses that are built with kits imported from Germany.
There is a fairground with a circus which has changing shows, a Ferris-wheel, roller-coaster, merry-go-round and a toy train with fun sound effects.
As for the population, there are over 2,000 human figures in different poses at various parts of the city. The night sky with stars and planets resembles the exact sky that was seen on April 16, 1853, the day when the first train ran in India.
Anything Else?
The museum is open to all. On weekdays, it operates between 9.30 am and 5.00 pm. On Saturday, the museum is functional in two slots – 9.30 am to 4.00 pm, 5.00 pm to 8.00 pm.
On Sundays, its only open between 5.00 pm and 8.00 pm!
Price: INR 90
So, We're Saying...
If you love trains and miniature cars, circus and people, Joshi's Museum Of Miniature Railway is the place to be! We spent close to about an hour here, and the experience was beyond words.
More Information
Joshi's Museum Of Miniature Railways
Comments