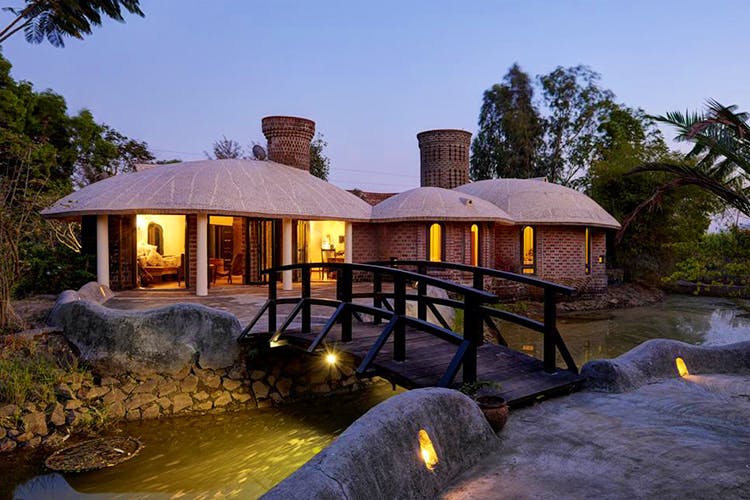 Go Green: You Can Rent This Eco-Friendly Country House With An Organic Garden
Shortcut
Enjoying the mountain views and lush green valleys while sipping tea on the patio. You can now rent an eco-friendly cottage with an organic garden in Kamshet called Kalpa Kuti- The Echo-Hamlet, that practices sustainable agriculture for preservation of eco-system.
What Makes It Awesome?
If you love nature and want to experience serenity, Kalpa Kuti is a perfect option for you. You can binge-watch movies in the cottage or exercise on the patio while enjoying great views.
We love that the country house is an eco-friendly and a zero-carbon-footprint place with an organic garden where medicinal herbs, plants, fruit and flower trees are grown using sustainable agriculture technique. Not only is the produce toxin-free, the air also remains fresh and the soil stays fertile.
The architecture is also in sync with nature, in terms of sustainable energy usage, and building materials used for construction, which is biodegradable.
We recommend that you go on a complete digital-detox and stay away from electronic gadgets. You can also cook healthy meals in the fully-furnished kitchenette.
What Could Be Better?
We feel that these eco-friendly farming techniques should be taught to people interested in knowing more about eco-friendly farming and culinary herbs so that they can practice it at home.
Pro-Tip
While you are enjoying your stay, we suggest you visit the Indus paragliding centre which is just 7 km away and take paragliding lessons and enjoy tandem rides.