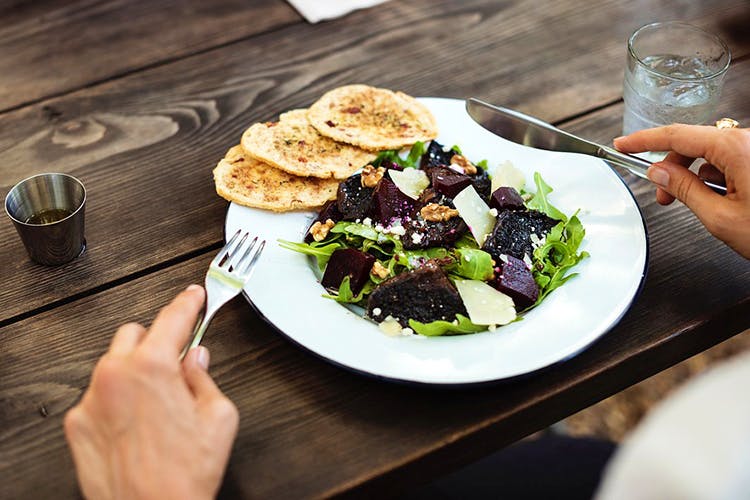 No Time To Cook For Your Diet? Here's A List Of Keto-Delivery Places In Pune
Keto diet is in and everyone's on it. If you're part of the keto-diet club, but have no time to cook as per your diet. Order up. We've found the best of keto delivery places in Pune to help you get that summer bod, quick.
Eat-O-Keto
Fitness freaks, have a new favourite. Eat-O-Keto, offers an extensive menu for people who are health conscious. They also have a good menu for keto plans and offer various dishes such as exotic veg pizza made from flax-seed-base, stuffed chicken omelette, and may other variants. A meal for two will cost you INR 300.

Bistro Nutri Food
Bistro Nutri Food has a kitchen in Aundh that delivers keto food throughout the city with additional delivery charges. You can opt for their 60 meal a month plan for INR 12,999, which will provide two meals in a day. If not this, you can also opt for their 30 meals per month for INR 8000 plus delivery charges. This will include one keto meal in a day.
Slim Kart
Known for their extensive diet-friendly meals, Slim Kart in Kalyani Nagar also delivers keto meals to your doorstep. With an option to customise your keto meals, Slim Kart also offers consultation. You can dig into a delicious keto burger or a sandwich without cheating on your diet. Their meal's costing start at INR 200 to INR 450.
The Green Chef
From keto kadhi to keto mousse, relish a completely healthy keto meal at The Green Chef. Operating as a delivery kitchen from Wagholi, The Green Chef offers a number of dishes such as zoodles, which are zucchini noodles, keto cauliflower classic meal, keto chicken curry and many other variants. You can also opt for their monthly subscription at INR 3,800.
Sorted Delicatessen
Known for their diet friendly and informative menu that tells you about how much you consume with every dish, Sorted Delicatessen also has a number of keto-friendly dishes. You can indulge in naturally sweetened desserts and/or a number of savoury dishes.
Comments