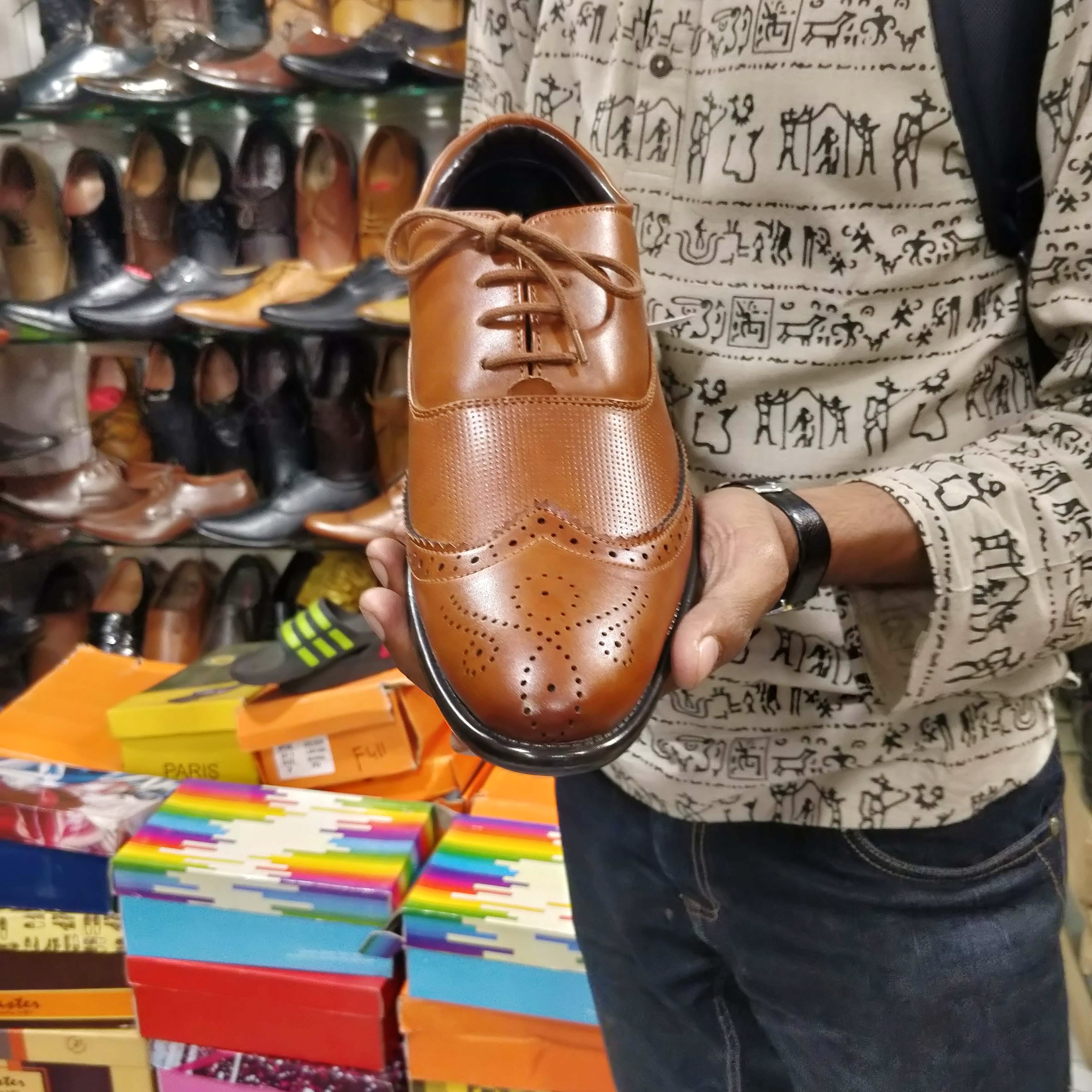 This Lane Has Every Kind Of Shoe A Man's Wardrobe Needs On A Budget
Tucked in the bylanes of Camp, Kolsa Galli is a stretch of around fifty to sixty meters with over 12 shops for shoes of all kinds. Walk into any shop and you will find an amazing collection of shoes at cheap prices. These shops have shoes of all sizes in different materials like suede, leather, cloth and more. We picked a few from Kolsa Galli and here are some shoes we liked.
New Shoe Point
Care for some sneakers? Head to New Shoe. This store has a good collection of stylish shoes. But we really liked these printed sneakers, which wear for INR 400 only. These sneakers can be easily paired with your everyday t-shirt and jeans and are comfortable to wear daily.

Outside New Shoe Point
If you fancy some kolhapuris, there's a guy who sits right outside new shoe point and has a really good collection of them. He boasts about how he procures the best and authentic Kolhapuris from the markets of Kolhapur. We picked out this elaborate flower chappal for INR 300. The key to buying a cheap pair here is to bargain. This chappal can also be paired with your everyday kurtas and short kurtas or also with elaborate traditional wear.
Papa Shoes
Our next stop was at Papa Shoes. This store has a great collection of formal shoes. You can choose from a range of classic Italian-styled leather shoes to shaded oxfords at INR 600 only. We chose these oxfords, which are apt to wear everyday to work or for those super important meetings where you need to look perfect.

New Decent Shoes
As per their name, New Decent Shoes has a decent collection of shoes of all kinds. However, what we really liked was this woven pattern of slip-ons for INR 500. You can literally pair this with any kind of clothing. Wear them with formals, a kurta, shorts...anything, really.
Inamz Shoes
Looking for something to pair with a sherwani? Head to Inamz Shoes in Kolsa Galli and get yourself a pair of leather mojaris, suede sneakers, Italian-styled formal shoes and more. The best part is their wide collection of stylish mojaris and shoes start at INR 700 only. We loved this black pair for the same price.
Papaji Shoes
Need something for your gym? Find comfortable and breathable sport shoes at Papaji Shoes. At this store we came across a huge collection of gym shoes. Unlike any other store, their gym shoes also had thick soles, so they won't wear off soon. These sport shoes started at INR 400. The best part is you can also bargain with them to get the best deal.
Comments