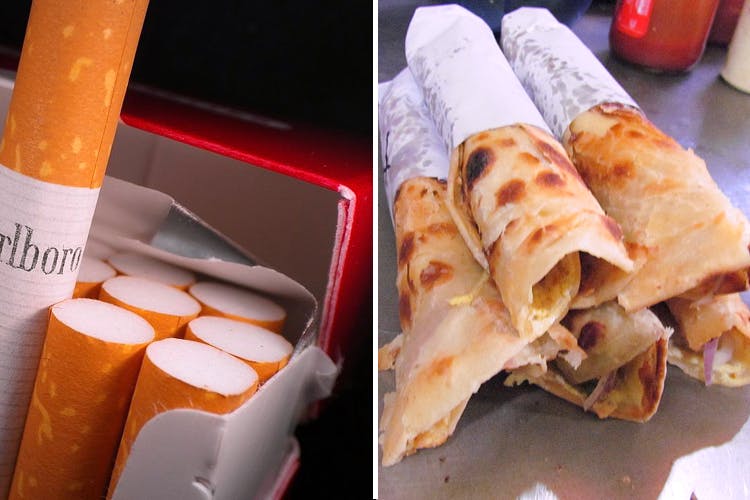 Midnight Fix: Bookmark These Late Night Delivery Services In Pune
Shortcut
Late night cravings are the worst. We know the feeling and have got you covered. Here's a list of places that deliver everything – right from yummy food, to cigarettes, condoms, contraceptive pills, smoking paper and more. So whether it's 12 am or 4 am, these guys are always at your disposal!
Night Riders
Craving something in the wee hours? Perhaps you're late home from work and are stuck with an empty refrigerator. Night Riders is a delivery service that'll help you out. They have a delicious assortment of food — chicken biryani, burnt garlic noodles, chicken lollypop masala, veg manchurian gravy and paneer butter masala. They deliver to Amanora, Hadapsar, Handewadi, Kharadi, Koregaon Park, Magarpatta, Viman Nagar, Kalyani Nagar, NIBM, Wanowri, Undri, Fatima Nagar among a few others.
Night Riders will also bring cigarettes, smoking paper, condoms to your doorstep in the wee hours.
Just Order India
Ran out of booze at the middle of a late night house party? Don't worry. Just Order India gets your choice of alcohol delivered to you in no time. The prices and delivery charges of alcohol depend on what you order.
In terms of food, the menu is limited but the prices are dirt cheap. Order a chicken burger for INR 100 along with a side of French fries. If you're craving for Hyderabadi chicken biryani, get a plate for INR 230. These guys close down at 4 am and only accept cash. They deliver to Sinhagad, Swargate, Pashan, Karve Road and in and around Mundhwa.
Devil's Kitchen
The food menu features a list of homely starters, from everything Indian to everything Chinese. While the wraps start at INR 65, the salads are a tad bit expensive and start at INR 165. The Rice Feast Box is totally worth trying. We'd recommend you order rajma chawal and the tandoori chicken masala with rice. Besides food, they deliver sanitary napkins, ice cubes, smoking paper and lighters, all within 45 minutes. They deliver to Magarpatta City, Amanora Park Town, Kharadi, Kalyani Nagar, Viman Nagar, NIBM and Wadgaon Sheri
Batman Delivers
Delivering between 7pm to 5am, if you're craving rolls, momos, Maggi and other Indian gravies, bread and biryani you can give a call to Batman Delivers. Soaring through the night's streets, the delivery boys bring you food to satiate your cravings. You can get chicken tandoori momos for INR 179, rolls start at INR 199. If you want something more filling, order from the Chinese menu, which includes soup, appetisers, noodles, fried rice and more. Or you can opt for Indian gravies, biryani among other things.
Batman Delivers is also happy to bring you cigarettes, smoking paper and condoms to your doorstep.
Midnight Mario
If greasy food makes you happy post midnight, give a call to Midnight Mario. Delivering between 6pm to 4am, Midnight Mario offers burgers, cheesy appetisers, pasta, pizza and more. Delivering in and around Viman Nagar, you can order a steak burger for INR 210, veg corn cheese nuggets for INR 150, honey chilli pizza for INR 260. And if you've got a late night sweet tooth, order a nutella cheese toast, nutella peanut fruit toast among others starting at INR 130.
Comments