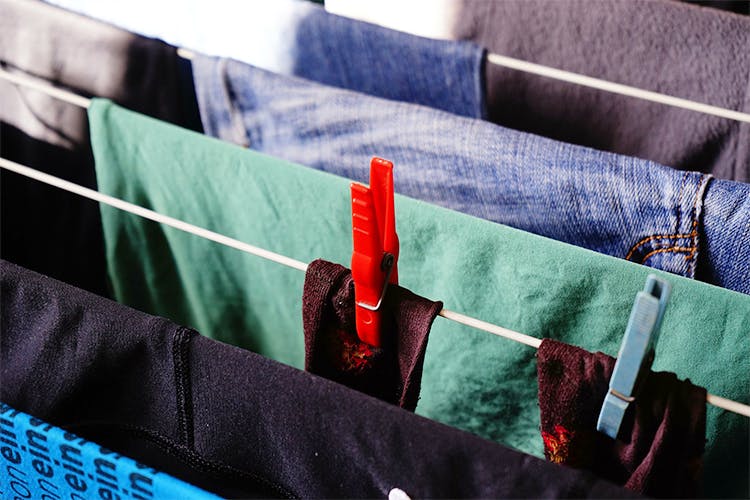 Fed Up Of The Growing Pile Of Unwashed Clothes? These Laundry Services Are At Your Rescue
We know how painful it is to wash clothes. Also, how dreadful the sight of a huge unwashed pile of clothes can be. Whether you are a student or a working yuppie with no time to manage your growing pile, we've something for you that you will totally love. Here's a list of best laundry services which will wash, iron, dry clean your clothes and deliver them to your doorstep.
The Moustache Laundry
We totally loved Moustache Laundry services that are not just great, but highly affordable too! Sign-up on their web portal, fill in your details and then the 'moustache men' will pick up your bag of laundry, clean and iron them and neatly deliver at your place within 72 hours. Wet cleaning and ironing of all kinds of clothes – shirts, tees, frocks, salwars, handkerchiefs, kurtas, pants, jeans – start from INR 60/kg. Dry cleaning starts from INR 30/piece.
MyWash
MyWash aims to become the one stop solution for all your laundry woes! They provide two kinds of services, wet wash plus ironing and dry wash plus ironing. The former starts from INR 100/kg and includes all types of clothes. The latter depends on what kind of attire you're giving for laundry. Example, if its shirts and skirts are for INR 50, denims its INR 120, shorts is INR 45, blanket is INR 250, etc.
The Laundry Bag
If you're a student living in the hostels of either Symbiosis or BITS or HNLU, you must be aware of their services! The Laundry Bag is efficient, clean and cheap. They will pick up your laundry, sort them out, treat the stains, clean, dry, iron and deliver them neatly on time. Basic laundry services start from INR 60/kg. Dry cleaning starts at INR 150/kg. They use lagoon advance care for your delicate garments. Services for top quality packing, detailed shining, ultra spotting and perfumed finish start at INR 200/kg.
Pocket Laundry
At Pocket Laundry, they believe that every customer has a different requirement and budget. Therefore, the pricing is based on the kind of machinery and technology they use on your clothes. They have both Budget and Premium services. Ironing services start at INR 8/piece. For other pricing details, contact them directly!
My Dhobi
Folks staying in Viman Nagar or neighbouring areas, My Dhobi is known for its impeccable ironing and washing services at reasonable rates. No time to do the laundry or worried about the gravy stain on your bedsheet? Worry not, they also provide dry cleaning services and a pick-up and drop facility. Not just that, they also provide shoe laundry services.
24 Klen
Proud owners of elegant and posh sartorial pieces, we understand your hidden fear of getting that stubborn stain on your heavy saree or crumpling of that smart tux. Known for its premium laundry and dry-cleaning services, 24 Klen is the right choice. Situated on ITI Road, opposite Croma showroom, get your clothes washed, ironed, folded by professionals. You can also log on to their website and schedule a pick-up. They provide steam iron services too starting at INR 40 a piece.
Laundryspin
In this digital age, even laundry services aren't far behind. Laundryspin is a one-of-a-kind laundry portal which provides services like residential laundry, commercial laundry, dry cleaning and doorstep delivery. The pick-up and drop service are free of cost and there needs to be at least 4 kg of laundry that starts at INR 70 per kg. The premium ironing and dry cleaning are pretty reasonable with per piece costing INR 7 and INR 50 respectively.
Deluxe Dyers & Dry Cleaners
Deluxe Dyers & Dry Cleaners boasts around 17 establishments across different areas of the city. Wherever you stay, we are sure there will be one Deluxe entity near you. They are known to use special laundry cleaning agents and detergents to clean your clothes. Rates start at INR 10 a piece and go up depending upon the service you are availing.

Comments