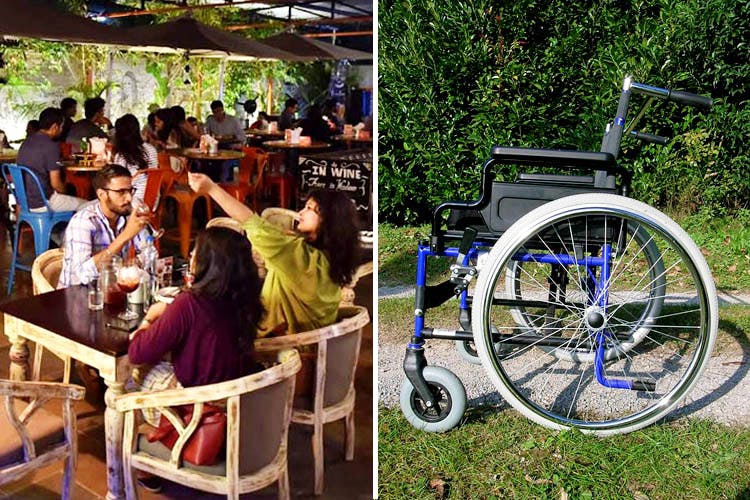 Everyone's Welcome! LBB's Guide To Five Disabled-Friendly Restaurants In The City
Did you know about 80% of differently-abled people avoid going out to dine? Reason being? Most of our restaurants are not disabled-friendly. So today on LBB, we made it a point to pick top five eateries that are going out of their way to make dining a comfortable experience for them.
The Ruby Hilltop - Sunny's World Pashan
Located on the top of Pashan hill, this elegant terrace restaurant is extremely disabled friendly with full-fledged wheelchair accessibility. Full marks to the comfortable seating areas and the courteous staff who are instructed to be on their feet to cater to any demands by guests.
Food-wise, we highly recommend you try Zaitooni paneer tikka for INR 279, marinated in rich Indian spices and grilled to perfection in the tandoor. Meat lovers, don't leave the restaurant without trying the roast lamb chilli for INR 429. Made in soya chilli glaze, this dish is a total winner.
The Urban Foundry
One of our favourite pubs at Balewadi High Street, The Urban Foundry continues to win our hearts with their disabled-friendly, wheel-chair accessibility within the restaurant premises. The best thing about the place? The staff will go out of the way to make you feel comfortable.
Barbeque Nation - Sayaji
Friendly staff, multiple lifts, great rooftop ambience, live grill concepts and more, Barbeque Nation at Sayaji Hotel, is a perfect amalgamation of hospitality and food. Apart from this, we noticed the restaurant has ramps for wheelchair accessibility. Kudos to that!
While everything looks absolutely delectable at Barbeque, we would like you to give the mutton seekh kebab platter a try. We also loved the flavourful mutter tikki with tamarind sauce and the Cajun spicy potato.
Dario's
Apart from dishing out mouthwatering pastas, pizzas, nachos, and risotto, this vegetarian restaurant at Koregaon Park is very disabled-friendly with wheelchair accessibility, valet service, well-mannered staff and comfortable outdoor seating areas.
Raasta Cafe
Known for its chicken Thai curry, long island iced tea, paneer satay and sundaes, this quirky-looking pub at Balewadi is going out of their way to make the place comfortable and absolutely disabled-friendly. Apart from having an extremely courteous staff, they have a ramp to support wheelchairs.
Price for two: INR 1,600
Comments