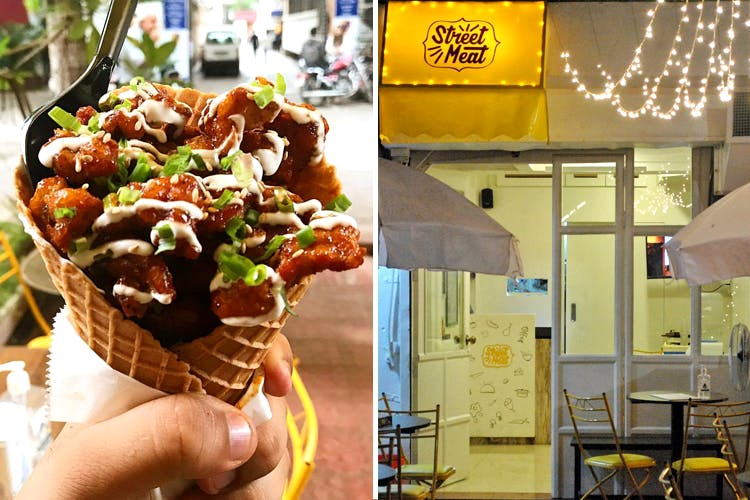 This Sweet & Spicy BBQ Korean Chicken In A Waffle Cone Is A Meat Lover's Dream
Shortcut
We've tried ice cream, marshmallows, brownie fudge and even fries in a waffle cone. So naturally, when we heard about this unique BBQ chicken dish in a waffle, we had to dig in to it!
Tell Me More
Our verdict? Absolutely yummilicious! Created by Street Meat, the BBQ Korean chicken in a waffle is a total winner. The dish is still not on the menu, but you can put in a special request. Now what's in this awe-striking culinary masterpiece? The waffle is like any other waffle you might find in an ice cream parlour – mid-sized, sweet, crunchy with a touch of vanilla after-taste.
Coming to the meaty part – the chunks of chicken are deep-fried in batter and tossed in sweet-and-spicy Korean BBQ sauce. As expected, the meat was filled to the brim of the waffle cone. Garnished with cream, cheese, chopped spring onions and sesame, this dish can easily feed two people. Also, if you love seafood, try the shrimp BBQ instead of chicken.
Price: INR 250 for chicken; INR 350 for shrimp
So, We're Saying...
Meat in a waffle cone? This one's hard to miss!
Comments