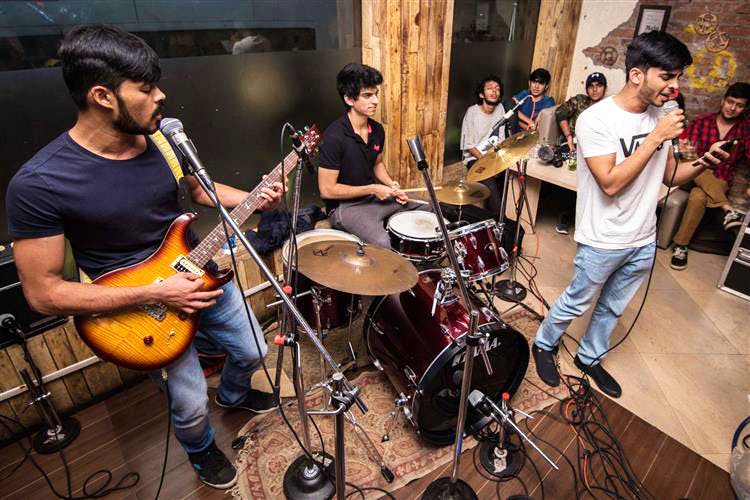 Here's Where You Should Go If You Like Your Drinks With A Side Of Live Music
Whether you are in a mood to enjoy your favourite drink, eat delicious food or simply groove with your gang, live music is an instant mood lifter. Whether it's the classics, old indie pop, jazz music or rock and roll; we found five places in Pune where you can unwind with great live music and have a melodious evening with your loved ones.
Hard Rock Café
If you are a fan of the rock genre, Hard Rock Café is your place to be at. Holding rock gigs every week, it provides a brilliant getaway for those wanting to let themselves loose. A popular place to hang out with friends, this space is also adored by the its customers for its exquisite décor. With memorabilia such as Bob Dylan's leather jacket on display – this is a place serving you rock music with its rich history.
Swig Bar & Eatery
With Happy Hours till 9 PM every day, Swig Bar & Eatery is famous for its live music and lively atmosphere. It's a must-visit for those who wish for a relaxing evening with a couple of drinks that are light on their pockets. Known for its beautiful ambience, the music here will keep you on your feet and the crowd upbeat through the night.
In Green
Sometimes, you simply want to relax with your near and dear ones and listen to melodious classics and piano tunes. In Green is a quintessential restaurant situated in Seasons Mall that provides this experience in the evenings. From Kishor Kumar classics to RD Burman, you will love the singer who performs live and also sings songs recommended by you! If it's your birthday, he will also dedicate a song to you.
The Funky Kona
When in the mood for fun, music, and drinks, be a part The Funky Kona's Funky Friday Nights where you can get the best of the musical world and local bands from Pune. From pop to rock, Bollywood to indie, these popular bands from Pune will ensure you have a musical evening worth remembering. We recommend you to try their fish n chips and skewers along with beer to double your fun.
The Millers
Are you a fan of jazz, techno or acoustic music? The Millers in the Mills is the perfect place for you to get the best of fun, frolic, food, drinks, and music. Catch the best acoustic bands playing on Friday and Sunday, or enjoy a scintillating jazz performance on Wednesdays. Thursdays are techno nights and we bet you will love the live performances while raiding their bar and sampling delicious food from their kitchen.
Comments